It was the summer of 2008, and we had just moved to Islamabad, caught in an intense heat that trapped us indoors, where the air-conditioning made life bearable. I had a toddler and a baby, my husband was at work all day, and most of the other families on the compound of the British High Commission where we lived were away for the holidays. Until our container of goods turned up, we didn't even have more than a handful of toys.
Into this miserable situation came Ansa—like a savior in her beautiful flowing shalwar kameeze, helping me with child care, taking on the cleaning, being someone for me to talk to, and, of course, making us the most delicious curries.
It was hard finding ingredients in Islamabad—most of the sort of meals we (and, more important, the children) were used to weren't readily available in the few shops the security situation allowed us to visit. So we were especially grateful that Ansa could visit the markets that we were banned from and buy the freshest of spices for her simple dishes. She made us spicy chicken biryani, mouth-watering beef kebabs, tasty vegetable curries using whatever happened to be in season, all accompanied by huge pots of raita and mounds of steaming rice. Every party we threw, we asked her to cook for us. So good was her food, she was soon running a side business in cooking for others on the compound who weren't as fortunate as us with their home help.
Then one fateful day in September 2008, everything changed. The kids were in bed, fast asleep, while my husband and I watched television when we heard the most enormous bang. He guessed immediately it was a huge bomb, and the news soon confirmed our worst suspicions: The Marriott Hotel was in flames, dozens were dead, hundreds injured.
That night changed our lives. Within a few weeks, we knew we would be on our way home, evacuated from a situation that had become too dangerous for our family.
The hardest thing was saying goodbye to Ansa. We arranged another job for her, and gave her some money to help with her children's school fees. On our last day together, as both she and I wiped away tears, she thrust a plain, brown envelope into my hands: her recipes, copied down in her broken English, sometimes phonetically, but always clear. It was her way of saying thank you.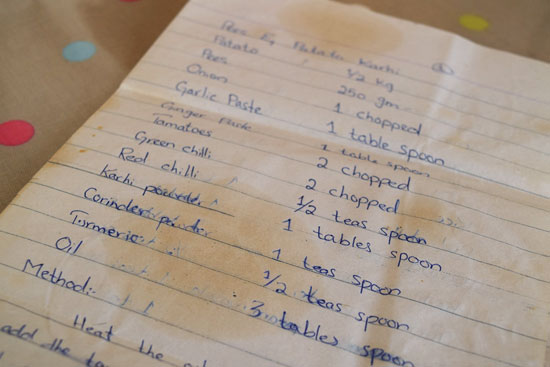 Now we'd always have something to remember her by—as well as a reminder of our short, difficult time in what I'm sure would be a fascinating country to live in had we gotten the chance to get to know it properly.
We still think about Ansa a lot, and we still make her curries. This pea and potato curry tends to be made the most often because it is one of the simplest, but also one of the most delicious.
Ansa's Potato and Pea Curry, from Pakistan

Feeds 4.
1. Weigh your potatoes—you need about 500g (about 3 or 4 good-size potatoes). Peel and chop into bite-size portions, and set aside.
2. Gather your spices: red and green chilies* (although if, like me, you have only red chilies on hand, that's fine too), ginger, garlic, turmeric, coriander powder, and "curry" powder. Now I truly believe the key to the deliciousness of this curry is the freshness of the spices; however, depending on where you live, you may need to get them out of a package. Do try and use fresh ginger, garlic, and chilies though.
*Which chilies to use? That depends on how hot you like your curry. Ansa's recipe calls for 2 green chilies, chopped, and ½ teaspoon of diced red. As for the curry powder, Ansa used a mix of curry spices, but any store-bought curry powder will do the trick.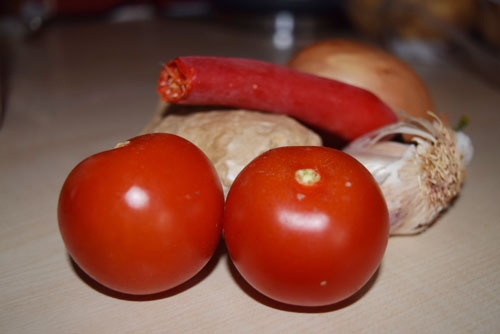 3. Chop your chilies (1-2 is generally fine), grate a thumb-size piece of ginger (about 1 Tbsp), and crush 2-3 cloves of garlic. If you are anything like me, you will make your amounts up as you go along—some days I use more garlic, less ginger; some days the other way round. Measure out the rest of the spices: ½ tsp turmeric, 1 tsp coriander, 1 Tbsp curry powder.
4. Chop 1 onion and 2 good-size fresh tomatoes.
5. Fry the onion in oil—something without flavor, like sunflower or rapeseed oil, works best. Add the spices, chilies, garlic, and ginger and fry for about five minutes. You should have a nice, thick, really pungent paste at this stage.
6. Add your potatoes to this paste and give it a really good stir to completely encase them in the flavors.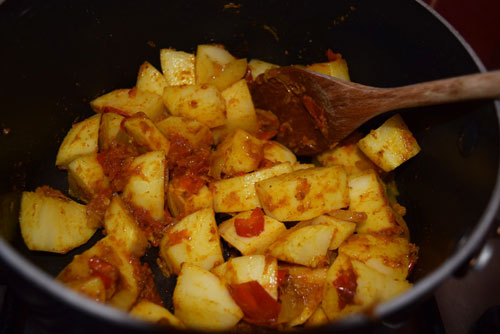 7. Here Ansa's recipe suggests you add 250g of peas, but as I usually use frozen peas, I generally add them later on. Instead, at this point I add a cup of water (and continue adding more if it gets too dry), pop the lid on, and leave it for 15 minutes or so until the potatoes are fork-tender (I like them still to have a bit of bite; don't wait for them to go mushy) and the gravy is thick. Add the peas (as many as you like!) at the end, and give it a few more minutes to make sure they're cooked through.
8. Serve the curry with basmati rice, homemade chapatti or roti, plenty of yogurt, and mango chutney.
Oh, and always make more than you need. You're going to want to eat this heated up for breakfast or lunch the next day!
About the author: Clara Wiggins is a British freelance writer and author of the Expat Partner's Survival Guide, whose work has appeared in The Washington Post, The Wall Street Journal, The Independent, and other publications. She has lived in several countries and traveled to many more, but for now is settled in the west of England with her husband, their two children, and miniature schnauzer, Cooper. To find out more about Clara's writing, please visit her website here.