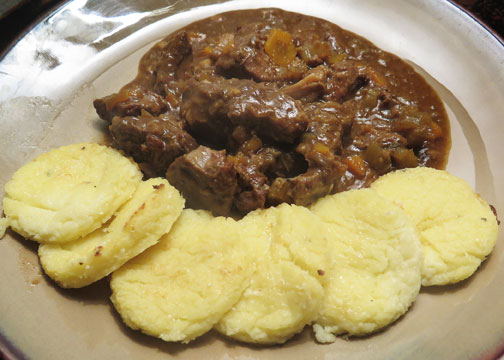 Gnocchi alla Romana with slow-cooker beef shank
We had planned a relaxing day at the beach. Well, as relaxing as one might get with a 1- and 3-year-old. My husband was home from work that day, so I figured it'd be a good night to cook something semi-ambitious. He'd be around to help watch kids while I mixed and cut gnocchi alla Romana, or Roman-style gnocchi—a semolina-based gnocchi that predates the Northern potato-dumpling gnocchi we all know, and a recipe I've had my eye on for a while.
Ah, plans. What's that saying about the best-laid ones?? First, we left late because I needed to prep the other half of the meal—slow-cooked beef shanks—and while I was searing the meat realized I was short a few ingredients (cue husband's run to Foodtown down the street). Then the car's battery wouldn't start, and by the time it finally did, the younger kid had to nap. By the time we left, we needed lunch, so called (and waited) for our favorite Henanese takeout en route. We got to the beach around 3pm, right in time for the guards to clear out the water due to riptides. After nearly two hours there, we remembered our empty cabinets at home, so swung by Trader Joes' for a quick shop (that's never so quick). Super relaxing day!
Thankfully, the stewy meat was ready by 6:30pm to come out of the slow-cooker for my ravenous kids, who gobbled it up not knowing the best part was yet to come. One went to bed and the other to the bath, and finally, finally, I got to work on the gnocchi around 8pm. The ingredients are simple: semolina, milk, egg yolks, butter, cheese. My arm nearly fell off from all the mixing and grating; I couldn't believe how much butter and Parmigiano-Reggiano went into it, but I dutifully followed most of Lucky Peach's recipe. I knew that every tablespoon of that butter and cheese was there for a damn good reason.
A juice glass works well as a round cutter.
While the mixture set, all spread out on a parchment-lined baking sheet to cool, I put my older son to bed—but that's also a great time to work on whatever you're pairing with this. Braised meat—which hopefully would have been started much earlier in the day—goes exceptionally well with this gnocchi, but you could serve it simply with just some tomato sauce and a salad.
It felt like I was working with Play-Doh, cutting out this gnocchi using a circular glass and setting it in a casserole dish. It actually took several passes of flattening out the "scraps" to use all the semolina, and I wound up with three dishes of the stuff. Before going in the oven to brown, more butter and cheese got drizzled on top. Of course.
Aaaand more cheese.
All for damn good reason. The gnocchi comes out looking like polenta, but without the corn flavor there's a distinctly rich, dairy taste in these, which starts with the whole milk, graduates to the butter, and ends with the cheese. Real Parmigiano-Reggiano is essential here; its wonderful nutty, savory flavor really shines through. And the texture is a pleasing mix of crispy and soft.
Gnocchi, beef shanks, wine. It was finally time to relax.
Out of the oven
HOW TO
For me the braised beef was an afterthought; I needed a hearty meal for four out of this, with leftovers. Plain gnocchi wasn't going to cut it. But the meat was delicious, rich and vegetable-studded. I used 2 lbs. of boneless beef shank in order to maximize my meat yield and followed Serious Eats' osso buco recipe (minus the gremolata).
The gnocchi alla Romana recipe I used was from Lucky Peach, by chef Mark Ladner (no longer online). I cooked mine for about 20 minutes at 500°F.
Go make some!