I woke up to a loud pitter-patter on my tin roof—another cold, gray morning in central Cambodia. The rainy season had stretched on for weeks and left me with a perpetual sniffle and a cough I couldn't shake. I needed to eat something to warm my belly.
I ventured into my village's winding market for breakfast, the dirt ground muddy and wet. Older ladies and schoolchildren grabbing a meal before class hunched below the market's makeshift sheet-metal rooftops, slurping up porridge from mismatched sets of porcelain bowls. I settled in at my favorite vendor's stall, a little stand with nothing more than a rice cooker, a portable burner, a sagging wooden bench, and a young girl with a mental archive of recipes so vast you'd think she was far beyond her years. I motioned toward the woman enjoying a steaming bowl of porridge beside me, and placed my order in Khmer confidently: "I want that!"
"Bor Bor," she said with a nod. Say no more. Her fingers quickly got to work, spooning up soupy rice from a cauldron-like pot and splashing it with lemongrass broth. Setting the bowl on her work station, she added in a few clumps of flaky white fish, chopped parsley, and crunchy bean sprouts. Then she finished it off with a sprinkle of dried garlic, chopped shallots, and fresh parsley, placing it before me with a side of lemon wedges and chili paste. I gave the lemon a squeeze and piled on the chili, hoping it would do something for my nasal passages. Then I dug in. My mouth was immediately set ablaze but quickly soothed by the citrus undertones of lemongrass and the vaguely sweet taste of the dried garlic. It was incredible.
For Khmer people, Bor Bor is tradition. The congee-like dish has been a staple in their diets since food sources were low during the Khmer Rouge genocide (1975-1979). The rice produced in Cambodia during that time was exported in bulk to China for commerce, leaving only small rations of rice for the people, so they watered it down to soup consistency to make it last. Even when times improved, Bor Bor remained a soupy porridge, but people took advantage of more widely available ingredients to give the dish new life. Nowadays there are varieties both sweet—simply achieved with heaping spoonfuls of sugar—and savory, for which add-ins might include meat, fermented fish, garlic, fried eggs, soy sauce, and chilies. The rice has become a backdrop for a range of spices and flavors, perfect for a chilly day.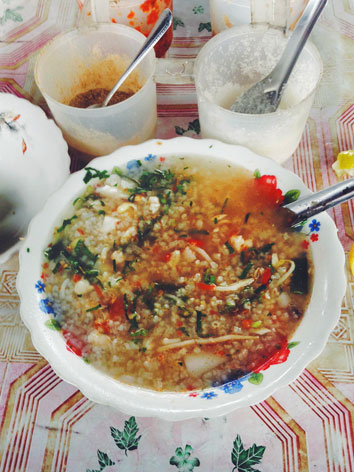 Recipe as told and shown to me by my favorite market vendor in Romias, a small village in Kampong Chhnang province.
Khmer Bor Bor Porridge
Serves 4 to 6
8 cups chicken or vegetable broth (or check out this recipe for lemongrass broth)
1 cup long-grain rice
A dash (about 1 tsp) salt or—as is customary in Cambodia—fish sauce
Cooked meat (or white fish) of your choice
1/2 cup bean sprouts
Handful parsley, chopped
1 stalk spring onion, chopped
Dried shallots
Dried garlic
Chili paste
2 lemons
1. In a large pot bring the broth and rice to a boil. When it's bubbling, turn the heat down to medium-low. Stir occasionally and let simmer for about an hour until it has a thick, creamy texture. Stir in salt or fish sauce for flavor.
2. Ladle a cup of the porridge into a bowl and add toppings at your discretion: Add in a handful of meat and bean sprouts and garnish with a sprinkling of chopped parsley, spring onion, dried shallots, and dried garlic. Serve with a side of chili paste and lemon wedges.
Note: If you have a rice cooker, it may have a congee setting. Add your broth and rice at night, and wake up to perfect porridge in the morning.
Photos by Glynn Pogue
About the author: Native New Yorker Glynn Pogue is a travel writer and food lover currently serving a two-year stint as a Peace Corps volunteer in Cambodia, where she teaches English. View more of her work at glynnpogue.com.