We're a little obsessed with Georgian food lately. In Brooklyn, we nearly split our pants eating the simple, rich cuisine, in meals bookmarked by addictive soupy meat dumplings (khinkali) and buttery cheese-stuffed bread (khachapuri). While cruising Turkey's Black Sea coastline last fall for hazelnuts and pide, we were tempted to just keep on driving to Tbilisi, to conduct our own taste tests of the two countries' various dolmas (stuffed vegetables), one of several dishes reflecting the countries' shared Ottoman heritage. So when Anna, a Georgian friend in New Jersey, offered to cook us a homemade Georgian feast last month, we naturally accepted without hesitation.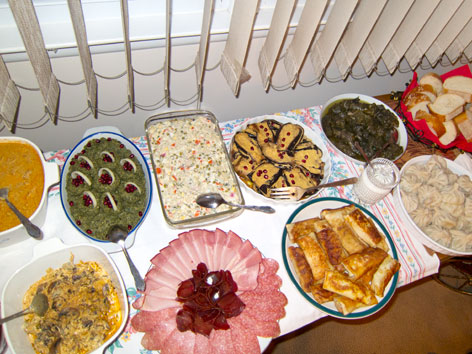 The spread that awaited us upon arrival seemed far too much for one woman in one (small) kitchen to produce for a handful of dinner guests: stuffed grape leaves, eggplant in walnut sauce, a spinach and pomegranate spread, khachapuri and khinkali, (Russia-inspired) blintzes, a plate of cured/dried meats (including the deep-red, jerky-like basturma), and sacivi, a cold dish of chicken in walnut sauce. The latter was particularly interesting to me, nutty and simple, but deceptively so—as Anna explained the recipe, it's difficult to get the texture just right. We weren't able to cook this dish with her (she'd made it the day before), but she shared her recipe with us:
It tastes better than it looks!
Georgian Sacivi
–Whole chicken or breast, cut into small pieces
–salt, pepper, bay leaf
–1 onion, finely chopped
–1 lb. shelled walnuts, finely ground
–2-3 cloves of garlic, ground
–2 tsp khmeli suneli (a greenish Georgian spice blend that includes ground coriander and fenugreek, available online or recipe here)
–1-2 tsp of kviteli qvavili (a yellow Georgian spice blend that includes cumin and fennel, recipe here)
–2 Tbsp white vinegar
Place chicken in a stockpot; cover with cold water; add a little salt, pepper, and one bay leaf. Bring to a boil. Cover, reduce heat, and simmer until chicken is cooked. In the meantime, sauté the onion in vegetable oil, and set aside. Grind the walnuts and garlic into a paste, and combine in a bowl with the two Georgian spices.
Once chicken is done, discard bay leaf and pull the meat from the bones, if you've used a whole chicken. Discard the bones and skin, but not the chicken stock in the pot. Strain and skim the chicken stock; set aside. Place chicken back in the pot. (All the chicken prep can be done well in advance, if preferred.)
Add a few cups of the stock back in the pot, and bring liquid again to a boil. Mix in the onion, walnut, garlic, and spice mix. Stir well. Here's where the tricky part comes in: The sauce should be on the thick side but smooth, so add more stock (or water) as needed. Continue stirring. The chicken meat should be fall-apart tender.
Remove from heat and add white vinegar. Let cool. Sacivi is eaten cold or at room temperature. Serve with lots of bread!