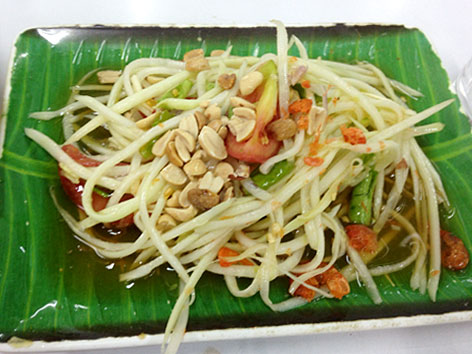 It was our first night in Chiang Mai. After a 24-hour journey of buses, overnight trains, and general mishap, all my friend Noele and I wanted were long showers and a great meal. Before this trip, we'd had dreams of Thailand's notorious midnight raves, but even then, our real draw to the "country of smiles" was the food. We wanted authentic pad Thai, exotic fruits, robust coffee—all of it.
We found our addiction early on. We were seated at the night market, surrounded by one of everything—heaping plates of fried rice, stir-fried seafood with sprigs of leafy basil—but our forks couldn't stop dipping into the som tam. The spicy green-papaya salad has long been a favorite in many areas of Southeast Asia, with names like bok l'hong in Cambodia and tam som in Laos—and is a standard dish at just about every Thai restaurant, anywhere—but it reigns supreme in Thailand, where it's eaten at any time of the day and is loved for its high flavor and low calorie count.
The crunchy shredded papaya and peanuts, snake beans, sweet tomatoes, dried shrimp, and healthy serving of chile got us at first bite. It was the perfect combination of regional flavors—salty, sweet, spicy, and sour. We spent the rest of our week in Thailand getting our fix. As we sat for dinner each evening, it went without saying that we'd start the meal with a plate of som tam. When we passed street vendors serving it, we would turn to each other, raise our brows, and within seconds position ourselves in front of their cart, anxiously awaiting our overflowing to-go bags.
By the time we returned home to Cambodia, we were going through full-blown withdrawal. While we left Thailand with some amazing souvenirs, what we really wished we'd snagged was som tam's secret recipe. We'd watched closely as vendors whipped up the salad, but their experienced hands moved with such urgency that they'd be asking for 50 baht (about US$1.50) before we could even begin to take mental notes. Then suddenly, one afternoon at the beach in Sihanoukville, like a gift sent down directly from the food gods, we got our chance. We had struck up traveler small-talk with the woman tanning next to us. "What brings you to Cambodia? Isn't this place beautiful? Where are you from?" She was excited to hear we were from New York City; we were thrilled to learn she was from Bangkok. Below, savor the som tam recipe she so graciously blessed us with.

Thai Som Tam
Serves 5
What you'll need
A mortar and pestle is key to this dish.
Peeler and julienne shredder

Ingredients
3 midsize, unripe papayas, or enough for 5 cups (refrigerate overnight to ensure firmness)
5 Thai bird's-eye chiles
6 cloves garlic
1 cup dry-roasted peanuts
1/4 cup dried shrimp
Sugar, to taste (palm sugar is preferable)
Thai fish sauce, to taste
2 limes
1 bundle snake beans, cut into 1-inch pieces
6 tomatoes, cut into quarters

Get ready to use some elbow grease!
Finely shred your papaya and set it aside in a mixing bowl. Pound the chile and garlic in the mortar and pestle until you get a paste. Next, add in about half the peanuts and continue to mash; once the peanuts are broken up, add the dried shrimp. Sprinkle the mixture with a few teaspoons of sugar and fish sauce, and mash until the ingredients blend. Squeeze in fresh lime juice, drop the rind inside, and mix and mash some more. Next, add in your snake beans and crush. Finally, toss in the papaya and tomato, using the pestle and a spoon to make sure the shreds get coated in flavor. Add more sugar or fish sauce as needed. Serve with more peanuts on top, and get ready to fall in love.
Photos by Glynn Pogue.
About the author: Native New Yorker Glynn Pogue is a travel writer and food lover currently serving a two-year stint as a Peace Corps volunteer in Cambodia, where she teaches English. View more of her work at glynnpogue.com.