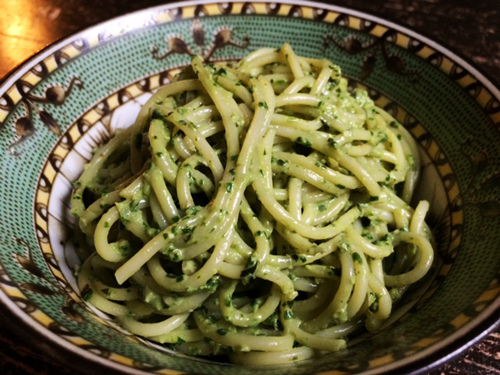 Pesto is big in our house. Huge. Pesto with pine nuts, pesto with walnuts. Traditional basil pesto, kale pesto, radish leaf pesto. We love it; our kids love it. It's probably the best way I know to serve fistfuls of raw greens to unsuspecting toddlers.
But then I was introduced to a new kind of pesto: Peruvian pesto. Well, technically it's called tallarines verdes, or green noodles, a nod to the spaghetti that's typically a vehicle for the stuff. There are major differences between this and real Italian pesto, but it is a tangible product of Italian immigrants in Peru, adapted to fit local ingredients and taste. We ordered it one night at a local Peruvian restaurant for my pesto-loving kid, and he devoured it. Lo and behold: Pesto pasta, via Peru.
The restaurant's version was creamier and milder than what I know as pesto. A little digging turned up some explanations: In many recipes, there's more spinach than basil in the sauce (one story is that the basil in Peru is exceptionally strong). The garlic (onion, too) is often sauteed before pureeing. And milk replaces olive oil as the blending liquid in some, if not all, of the recipes. Also: creamy cheese (like queso fresco or feta) instead of nutty Italian cheeses.
I've since made this a few times at home, relishing in all that spinach. I typically follow this SBS recipe more or less, and dutifully use the evaporated milk it calls for—it makes for a creamier, thicker sauce—but you can swap in regular milk if you'd like. (Some unexplained part of me is always intrigued by those old-fashioned-seeming cans at the supermarket, too. If you're with me, here are some ideas for what to do with your leftover milk.) Since I more often have feta in the fridge, that's the cheese I opt for. Same goes with walnuts, a staple in my kitchen—other recipes call for pine nuts or pecans, so you can be flexible there. (Also, I never bother to toast the nuts and it still tastes great.)
In Peruvian cuisine, meat and potatoes are traditional accompaniments, but we usually eat it straight up. Sometimes even cold, the next day…right out of the fridge. It's that lovable.
Here's how to make it:

Recipe adapted from SBS.
Ingredients:
Olive oil
1 white or red onion, sliced
2 garlic cloves, chopped
1 box spaghetti (Trader Joe's brand is better than most!)
2 cups (packed) baby spinach
2 cups (packed) fresh basil
½ cup evaporated milk (or regular milk), plus more if needed
¼ cup walnuts
½ cup feta cheese or queso fresco, crumbled
Salt, pepper, and Parmesan cheese to taste
Method:
Heat olive oil in a saucepan over medium heat; add onion and garlic and cook a few minutes until softened. Remove from heat to cool.

Get the spaghetti going in boiling salted water; cook until al dente.

Put the greens, milk, nuts, and cheese into a food processor. Add the cooled onion-garlic mixture. Process until it's all mixed, like a thick purée. Add a little salt and pepper.

Drain pasta, saving about a cup of its cooking liquid. Put the spaghetti and the pesto sauce back in the pan, and add a little of the pasta water in until you're happy with the consistency. (Or add milk if you want it thicker.) Add more salt and pepper to taste. Serve topped with grated Parmesan cheese—or more crumbled feta/queso fresco.