Capitone, or eel, from Lazio
From north Italy to south (more or less), our writer takes a look at those most traditional and distinctly regional of Italian dishes: the ones trotted out for Christmas.

Nothing is more Italian than its culturally significant foods. And there is no time in the year when culinary traditions are more alive than during the Christmas season, when every table is royally laden with the most typical foods. During the rest of the year all the characteristics that define our extremely different regional dishes are not as evident as they used to be—people now tend to eat lighter and more generic foods—but at Christmas the grandmas want to have fun and brush up on our culinary traditions.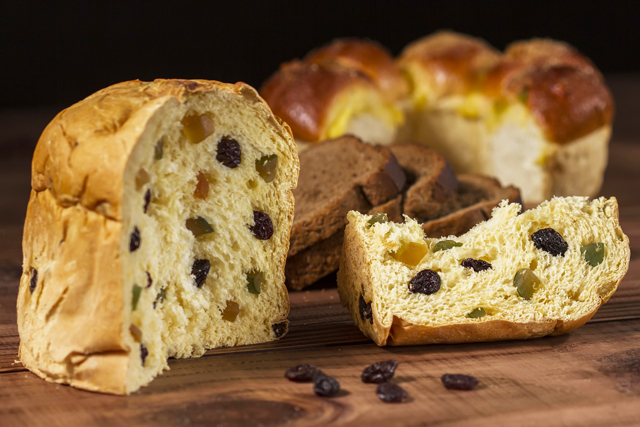 Panettone
Let's start with the most popularly known: The quintessential Christmas sweet is the panettone; originally from Milan, it's now widespread all over Italy (and beyond). It is a sweet bread loaf, cupola-shaped and made with candied fruits, sultanas, and spices. It's quite complicated to make at home, as the proofing process takes several days and is hard to control.
Likewise common is the pandoro, originally from Verona—it'sthe sweet preferred by everyone who doesn't love candied fruits. It's shaped like a star and iced with vanilla-flavored sugar. Also from Veneto is the all-season polenta (cornmeal mush), which at Christmas is served together with cod whisked with garlic, oil, and milk and turned into a thick paste (polenta con il baccalà).

Insalata di puntarelle. Courtesy of su-lin/Flickr
Cod is popular also in Lazio, where it is rigorously battered and fried: baccalà fritto. It's served along with the capitone (the female eel), chopped and baked with lemon, garlic, and laurel. The most popular side dish of the season is a salad made up with puntarelle (the inner stalks of a type of chicory), garlic, and anchovies.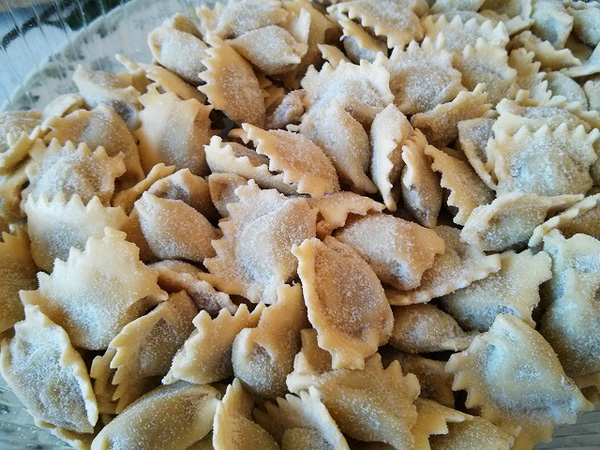 Agnolotti del plin.
Courtesy of Alessandro Vernet/Flickr
In Piemonte, at Christmas as on any other special occasion, agnolotti del plin (small, ravioli-like envelopes of pasta filled with melted butter) are inevitable. Usually, they are served with a meat ragù in a dish.
In Tuscany, they eat the bardicchio, a pork sausage seasoned with fennel, and the all-season paté of chicken livers. On the 26th, it's traditional to eat the meatloaf-like chicken in galentino, that is, with the skin of the chicken's neck filled with minced meat (beef; pork; sausage; chicken, of course), breadcrumbs soaked in milk, eggs, and Parmesan cheese.
Not to be confused with maccheroni, the short, curved tube pasta found around Italy, maccheroncini di Campofilone—a well-known pasta from the village of Campofilone in the Marches—are long, thin, and made with eggs. On Christmas, this pasta is served with a sauce of veal and pork.
Struffoli
In Campania, the most popular Christmas dish is the capon (castrated cockerel) soup, called brodo di cappone. This special stock takes a long time to make, and is enriched with little balls made from breadcrumbs, ham, eggs, flour, and nutmeg. After the meal, the ubiquitous sweets of the season are the struffoli: small balls of sweet dough that are deep-fried and then covered with honey and decorated with small candies.
Somehow lighter than other regions' specialties is minestra di scarole, verze e cardi in brodo di tacchino—a soup traditionally prepared in Basilicata comprising endive, Savoy cabbage, and cardoon all cooked in turkey soup and then topped with pecorino cheese.
Cartellate. Courtesy of San Paco Martire/Flickr
The typical Christmas sweets from Puglia recall the shape of Jesus' swaddling clothes: Called cartellate, they are made of deep-fried dough soaked in either honey or vincotto (cooked wine), and then covered with cinnamon or almonds.
In Calabria during Christmas, the ubiquitous meal-starting cold cuts are followed by spaghetti con mollica di pane e alici: spaghetti with breadcrumbs and anchovies, a traditional dish of impoverished areas.
The malloreddus, a shell-shaped pasta from Sardinia, is made on Christmas alla Campidanese: with sausage sauce seasoned with pecorino cheese and saffron.
Pasta con le sarde. Courtesy of Joy/Flickr
Finally, in Sicily, the seasonal meal opens with insalata d'arance, for which the famed local oranges, well-known for being sweet and juicy, are chopped salad-like and combined with onion, black olives, and pepper. The main dish? Pasta con le sarde, bucatini with local pilchards (sardines), which are cooked together with anchovies, onion, saffron, raisins, fennel flowers, and pine nuts.
The only trouble, of course, is trying to be in all of these regions of Italy during the same Christmas season!
About the author: Giulia Blocal blogs about unconventional destinations, offbeat spots, street art, outskirts, and urban landscapes at www.blocal-travel.com. She lives in Rome. Follow her on Instagram @giulia_blocal_blog.