Portuguese culture is synonymous with Fall River, Massachusetts, and it's worth pulling off the highway to eat there. Here's where to try Portuguese food in Fall River.
Fall River, Massachusetts, is the kind of town most people drive through to get someplace else. Once a center of textile manufacturing, it's long since fallen on rough economic times, and is now rather gray and desolate in stretches, even despite the picturesque Braga Bridge and "Gates of the City," the latter a gift from its sister city in the Azores. For us, it's usually a pit stop en route to Cape Cod. Fortunately, there's always been something in Fall River that makes pulling off the highway worth our while: killer Portuguese food.
Fall River, along with other pockets of southeast Massachusetts and Rhode Island, is home to a sizeable Portuguese population—among the largest in the U.S.—thanks to multiple waves of immigration between the late 19th century and the 1970s. They came first as whalers to New Bedford, then to work in the cotton mills and manufacturing plants of Fall River and elsewhere; later, they came to escape overpopulation in the Azores, economic hardship, and dictatorship in Portugal. As a result, Portuguese culture has become synonymous with Fall River, glimpsed in its churches, schools, social clubs, bars, bakeries, and, of course, restaurants. In the city's industrial setting, the Portuguese influence melded with the ideals and ingredients of working-class Massachusetts.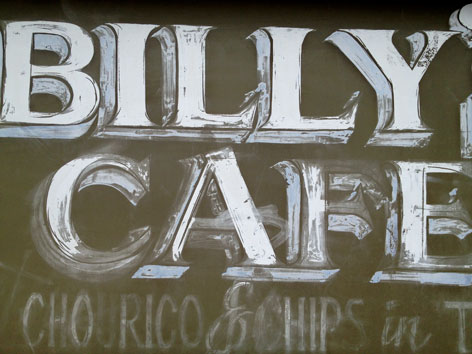 But lately we're hearing of decades-old eateries closing; we're reading that the Portuguese population of Fall River is shrinking, that the town's cultural identity may soon be challenged. We're sure that among the Portuguese-Americans living in Fall River, the culture remains intact—familial traditions always prove stronger than those that are bought and paid for. But what a shame it will be if casual visitors like us can no longer stop by for a quick dip into another world. It's the thing in Fall River, the experience, that sets it apart from countless other towns we just drive straight past. It's what makes it special.
Although one of our favorite spots has already closed (after nearly 80 years in business), we're not here to sound the alarms: There are still plenty of Portuguese restaurants in Fall River; in fact, we haven't yet been to most of them! Our stops are generally very quick, and always satisfying. Let's hope it stays that way.
Here are some favorite dishes and places to eat Portuguese food in Fall River.
Bakery goodies
This bakery, Barcelos (695-699 Bedford St., map), is an absolute gem. Good luck leaving with less than five of the delectables beneath the glass counter: traditional pastéis de nata (egg custard tarts) and queijadas (cheese and egg tarts), sugary malassadas (fried dough), rabanadas (Portuguese French toast), lemony Portuguese muffins, glazed popovers, croquettes. And then there's the breads—Portuguese sweet bread, coconut sweet bread, Portuguese rolls—and the sandwiches, which we never get around to trying, but sound delicious (red pepper and cacoila, like a slow-cooked pulled pork; bifana, or pork cutlet, and sautéed onions). Perhaps our favorite thing, though, is the queijada de Vila Franca, a delicate Azorean tart made with egg, milk, and white cheese, dusted with powdered sugar.
There's another bakery, called Sam's (256 Flint St., map), that is also quite beloved in Fall River, but more for its Middle Eastern pastries. However, the Lebanese/Syrian-style meat pies include a mean chouriço version, and the drink of choice is (very New England) coffee milk. (Be warned it's open till 1:30pm most days, and is closed on Mondays.)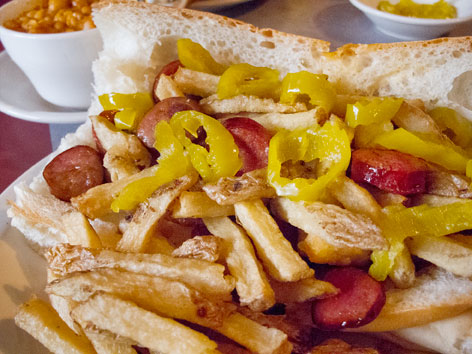 Chouriço and chips, chouriço and peppers
The best Portuguese-inspired sandwich to pair with a cold local beer, chouriço and chips is, quite simply, rounds of chouriço—smoked and cured Portuguese chorizo—and French fries on a long roll, frequently called a "grinder" in these parts. Yep, that's a sausage-and-fries sandwich, sometimes with hot peppers thrown in. Sadly, the place we liked for this dish, Billy's Cafe—a wonderfully divey, character-filled sports bar that opened in 1934—shut down last New Year's Eve. You can, however, find it elsewhere, as a sandwich or a platter, including Alice's Diner (2663 South Main St., map), The Liberal Club (20 Star St., map), and LePage's Seafood & Grille (439 Martine St., map). You'll also sometimes see chouriço paired with peppers in sandwiches, like at Bella (19 Jeremiah Sullivan Dr., map).
Portuguese kale soup
Also known as caldo verde, this soup, hearty with potatoes, kale, and linguiça or chouriço sausage, was widespread across southeast Massachusetts long before kale became the ingredient du jour in culinary circles. Fall River is no exception. Pictured is our homemade version (see recipe here), but you'll find it in countless Portuguese restaurants, including Caravela Family Restaurant (637 South Main St., map), Terra Nostra (262 Rodman St., map), and Lusitano (822 King Philip St., map).
Want more? Try the grilled chicken with piri-piri sauce and special feijoada at Mr. Chicken (656 Bedford St., map), the shrimp Mozambique at Academica (627 South Main St., map), the bacalhau at Fall River Grill (363 Second St., map), the fish stew at Lusitano, the Portuguese steak at Alice's. There are endless opportunities to explore beneath the surface of Fall River. We just hope it stays that way.