Contributor Adam Corre gets stuffed on Addis Ababa's only guided food tour, a three-restaurant spree that may challenge your perceptions of Ethiopia.
Addis Ababa photo by neiljs
It's impossible to finish this meal. I feel as though I've eaten a lot, but a cursory glance at our large, still-full tray of injera, Ethiopia's staple food, suggests otherwise. The food has barely diminished. To avoid causing offense, the hosts have been informed this is not an indication of customer dissatisfaction. My insightful guide today is Xavier Curtis, who grew up in Washington, D.C. and became actively involved in the Slow Food movement while studying at the University of Wisconsin. Curtis is the co-founder of two-year-old AddisEats, a walking food tour company. "The owner's wife used to ask me, 'What's wrong with our food?'" he tells me. "Now they know tourists just can't finish it." It is a scenario that stands in contrast to many people's thoughts when the words Ethiopia and food are uttered in the same sentence. Most will recall the famine of the 1980s, when widespread starvation shook the conscience of the world. While democracy remains a distant dream here and poverty is pervasive, food is no longer the scarce necessity it once was.
Stop 1: Spicy Stews + Injera
Dust and bricks are everywhere. Strolling to our first stop in the Chechinia district, it became clear this is a city under construction. The sound of drilling blared from across the street. Scaffolding surrounds most buildings. Economic development, often with Chinese backing, is one of the defining features of modern-day Addis Ababa. Restaurants, too, are evolving, says Curtis, whose breadth and depth of knowledge of the country even beyond its cuisine is impressive. He started this tour company with Eliza Richman, who also spent her formative years in Washington, D.C. But her connection to Ethiopian food is deep-rooted, as she grew up with an Ethiopian nanny who cooked and cared for her. She moved to the country she held dear after graduating from college (likewise from the University of Wisconsin).
I tip-toe across a mini-bridge erected over the rubble-strewn street to reach the entrance of our first restaurant. With a thick, dark-green sign, but no name, it would have been easy to miss. This family-run business is an intimate place, with locals chatting at small tables. Most are enjoying a meal central to the Ethiopian diet: a rich array of curries and lentils on top of injera-covered plates. The pancake-shaped flatbread called injera is made from fermented teff, a gluten-free grain containing 20 times more calcium than wheat or barley. Smooth and silky, it's dotted with tiny holes on its surface; the local manner of eating involves tearing off pieces of injera and using it to pick up the accompanying stews. Injera seems to come in two forms: very sour or not so sour. "The more bitter-tasting version is considered a highly prized variety and is used for special occasions. But it's not so much for Western tastes," says Curtis.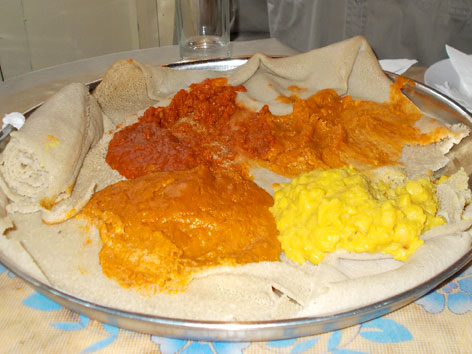 Photo by Adam Corre
Thick globs of shiro (chickpea and split pea powder stew) and misir wat (a curry made from lentils) brighten up the plate before me. Both stews are made with berbere, a spice of utmost importance in Ethiopian cuisine. Its strong scent of ginger and chili peppers tingles my nostrils. Injera is eaten from a communal plate with your hands. And that's one reason why dining in Ethiopia is highly sociable. "If you bump into friends at a restaurant, you'll be asked to join them and share their food," Curtis explains. At this stop, we also meet women tasked with making injera using a mitad, a tool akin to a crepe maker. One type of mitad utilizes electricity; another does not. "She uses both throughout the day in rotation to make as many pieces of injera as she can. But when there are power outages, she can only use the old-fashioned mitad," Curtis says.

Stop 2: Beef, Cooked or Not
Our next stop is a restaurant set back from the road behind gates. Inside, two assistants sit on high stools, chatting to a customer leaning on the counter. Behind them, carcasses are clipped onto metal railings. The relationship between meat and dairy is a complex one in Ethiopia: More than 40% of the population is Orthodox Christian, meaning fasting days (when meat cannot be consumed) are plentiful. Officially, for 180 days of the year, butcher shops are closed. Unofficially, customers can still get their meat fix through a separate side entrance.
But we are not in any butcher-shop-cum-sit-down-meat-tasting outlet. This is a place well known in Addis Ababa and beyond for its high-quality meat. Its distinction is reflected in its tipping culture. At most butcher shops, customers tip when ordering to secure a better cut of meat. But here, the situation is slightly different. "This is one of the only restaurants we've encountered where they don't let you tip before. We have to wait until the piece of meat has been selected and cut," Curtis explains. To ensure the rule is enforced, the head waiter or owner sits on a high stool to observe employees.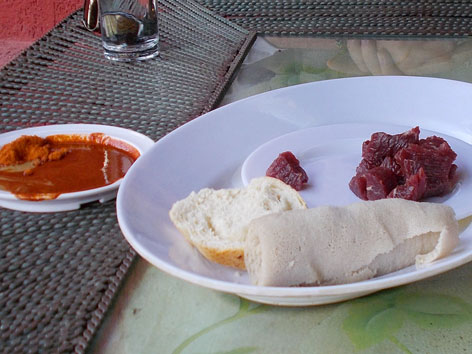 Photo by Adam Corre
Curtis, well aware of all the best dishes on the menu, orders strips of marinated beef (tibs), which were tender, chewy, and delicately prepared. The meat oozes flavor. Then our second snack arrives. Crowded into the corner of a plate are petite raw cubes of meat (gored gored), served with a watery red concoction of berbere powder and wine sauce (awaze) for dipping. This delicacy, seen as a status symbol in Ethiopia, is often reserved for special occasions. Of course, to many Westerners, the idea of eating uncooked meat sends alarm bells ringing. I started the day with stomach pains, so I sadly had to decline this tasting. But collective murmurs of approval from other tour-group members suggested this was a dish worth trying.

Stop 3: Perfect Fish
Our final stop is a fish restaurant that looks like a cross between a converted warehouse and a music hall: At the back of this large, deep, high-ceilinged building is what appears to be a stage. To my right, in an open kitchen, I can see staff frantically preparing dishes. Our visit provides the perfect opportunity to sample Ethiopia's tilapia. The batter is made with a light layer of flour, which is deep-fried, resulting in a delicate, crispy, bony fish that's fiddly to eat, but delicious. Across the room, I observe a family devouring their meal. They are feeding each other, a scenario that sparks a recollection from Xavier: "I was once hand-fed by a former work colleague. It was very awkward, to say the least." He is referring to gursha, a local form of hospitality. In Ethiopian culture, feeding family members or dear friends is a sign of a close bond.
About the tour: The stops on this food tour are carefully vetted high-end restaurants; other services by AddisEats include market and full-day tours. But it doesn't come cheap. This costs US$55 in a city where the most expensive restaurants often charge $3-$7 per person for a meal. Yet AddisEats is unique in Addis Ababa: No other guided food tour currently exists. The immersive experience it offers and the accessible in-depth local knowledge of the guide make it highly recommendable.
About the author: Adam Corre is a freelance journalist based in London. He has written for a number of local and national media outlets. Follow him on twitter @AdamCorre.