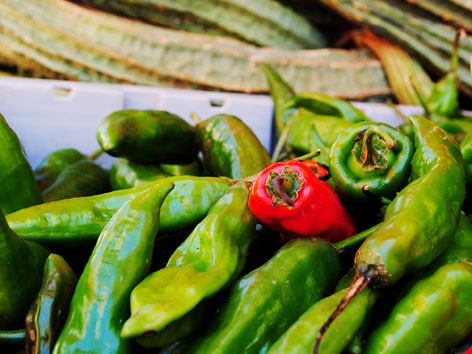 Piment, in Réunion. Photo by Jessie Beck
Mention Réunion to most Anglophone travelers, and they'll shake their heads: "Where?" Do the same at a dinner table full of travel-savvy French and you're more likely to evoke a chorus of oohs before the conversation turns to tropical weather, volcanoes, and—most important—la cuisine creole.
Île de la Réunion, a little island outpost of France, sits in a lonely spot in the Indian Ocean, far from any mainland but comfortably nestled between Madagascar and Mauritius. Though technically considered an African island, visitors would be hard-pressed to identify the island's personality, culture, and cuisine as purely African. Instead, its unique geographical position and relationship with France has helped create a true melting pot of different cultures and tastes, taking culinary cues from mainland Africa, Madagascar, India, China, and France while making good use of local fruits, vegetables, and seafood. For travelers who love to eat their way through a place, this tiny territory has no shortage of interesting dishes to explore. Here are a few highlights worth seeking out.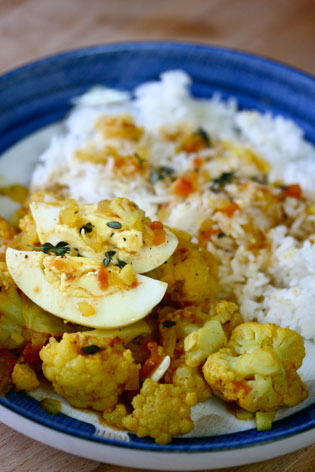 Photo by Pinuxette
Cari
Cari, also spelled carry (English: curry), is considered one of the plats de resistance in Réunion—and no two caris are the same. This dish can be described generally as vegetables (like potato, chouchou (chayote), or even jackfruit, originally from India), meat, or fish served in a curry sauce made from locally cultivated Saint-Joseph curcuma (turmeric), garlic, thyme, onions, ginger, local saffron, and a spicy chile pepper sauce called piment. For some caris, particularly those with beef, tomatoes are also added. Judging by this description, it's probably no surprise that the main influence for this staple dish comes from the Tamil ethnic group of India; you might think of this as a tropical take on classic curry. Cari is typically served with a starch (like rice) and either beans or lentils (a rare variety of which is grown here, in Cilaos), so save this dish for when you have a serious appetite.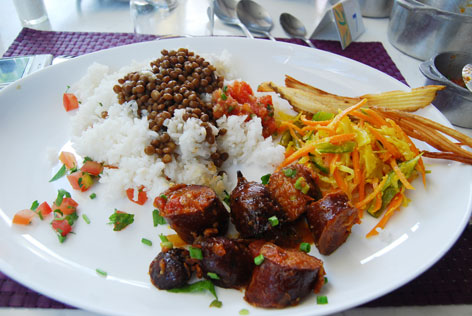 Photo by Drics67
Rougail
Rougail, a spicy sauce, can be separated into two distinct categories: le rougail pilon (pestle rougail) and le rougail marmite (pot rougail). The former takes its name from the mortar-and-pestle method used to make it. This type of rougail always incorporates fresh piment and can be made with tomato, eggplant, green mango, peanut, or green tamarind, to create a fresh accompaniment for rice and beans or meat-heavy curries.
Le rougail marmite, on the other hand, puts rougail in the spotlight as a main dish, not a side. One of the more popular versions of this, le rougail saucisses (sausage rougail; pictured above) combines well-ripened tomatoes, garlic, onions, and curcuma with—you guessed it!—sausages, served with rice, to make a simple, savory meal that's perfect after a long day of hiking. Other variations might include cod, herring, eggs, a very small and thin shrimp called chevaquines, or even wasp larvae.
Photo by Pinuxette
Achard
Does it seem like Réunion dishes are a bit starch-and-protein so far? Well, achard, a salad-like mixture of fruits or vegetables, gives balance to a typical creole lunch or dinner. It's commonly made from cabbage, carrots, green beans, or a combination thereof, and then mixed with ginger, garlic, oil, vinegar, salt, and sometimes piment. For those coming from Madagascar, achard is incredibly similar to the common Malagasy side lasary. Other, more tropical takes on achard involve flavor combinations like citrus-ginger or pineapple-lemon.
Photo by Jessie Beck
Brèdes
Brèdes refers to a wide variety of leafy greens present on Réunion that are believed to have their origins in Madagascar or East Africa. Interestingly, the name comes from the Indian word brette, meaning "good to eat"—an incredibly fitting word for this nutrient-rich food. When prepared, it's most similar to American collard greens. This dish is so simple, delicious, and full of nutrients it's hard not to love.
Photo by Oliver Hirt
Samoussas
Samoussa, sambosa, samosa—same, same, right? Well, more or less. Samoussas in Réunion are like East Africa's sambosas or India's samosas in the sense that they are deep-fried little triangles stuffed with meat or vegetables, served hot and fresh from sidewalk vendors as a cheap and filling snack. But the fillings often place them squarely in Réunion. Among the piles of samoussas on this island, you might try East Africa's favorite version, ground beef and onion; the uniquely Saint-Denis shark or pineapple samoussa; or the slightly less daring cheese or crab samoussa. With such variety, you'll be glad they're so cheap!
Photo by Jessie Beck
Bouchons
If you prefer your snacks steamed, not fried, then Chinese-influenced bouchons are the way to go. Although they are not quite as common a street food as samoussas, they are popular as an appetizer or bar snack. Like Chinese dumplings, they are made with a thin, pasta-like dumpling wrapper and filled with beef, pork, or chicken. (My personal favorite? The handmade bouchons filled with duck and locally grown vanilla made by my Reunionese couchsurfing host.) Typically, bouchons are served with a side of hot sauce or soy sauce for dipping.
Photo by Jessie Beck
Le Americain
When I asked a Reunionese native living in Madagascar to name the one thing I should eat on my trip to Réunion, he surprised me by saying "an American sandwich." In the beachfront town of Saint-Pierre, little kiosks selling these gooey baked meat-and-cheese sandwiches, alongside cheap beer and ice cream, are ubiquitous. For just a few euros, beachgoers can fill up on their choice of ham, chicken, hot dog, tuna and corn, or salmon Americains, topped with fries if they wish, before plopping themselves down on a beach towel to digest. After all, what would an island nation be without some terribly unhealthy—but somehow irresistible—boardwalk food?

About the author: Originally from Washington D.C., Jessie Beck has followed her love of travel across the globe to Malta, Costa Rica, Seattle, and most recently Madagascar as a Peace Corps volunteer. When not biking or sampling local cuisine, she blogs about life as a nomad at beatnomad.com.