Eating in Mumbai is a delicious, if overwhelming, experience, especially when it comes to navigating street food. We've done the work for you: Here's where to find 10 of the best street foods in Mumbai.
It may be the financial capital of India and the home of Bollywood, but Mumbai is also a true food lover's paradise. And if you love street food, you're especially in luck, as every corner has a stall with a few quintessential dishes—dishes that are part of the daily meal routine for most in the city. From the traditional Marathi breakfast with ladi pav (fluffy white buns) to the tangy import of South Indian sambhar, the best street foods in Mumbai have something to suit every taste bud. Many of these dishes are vegetarian, and all are prepared from scratch—sometimes before your very eyes—without any processed chemicals or additives, so you can feel good about what you're eating.
While you can find these dishes on virtually every street corner of the city, die-hard Mumbaikars know there are certain spots where the tastiest street foods exist at the best prices. It's a lot to navigate out there, so we've done the work for you. Here are Mumbai's 10 best street foods to try on your next trip to the city.

All photos courtesy of Tejaswini Manerikar except where indicated.
Vada Pav
The deep-fried golden potato that forms the basis of this classic Mumbai dish is shaped like a tennis ball. But once it's stuffed in a bed of traditional pav with coriander chutney, red chili powder, and tamarind sauce, it's the street food everyone craves at the end of the day. It is to Mumbai what fish and chips are to England. The potato cutlet itself is delicately spiced with green chilies and coriander. If you're in Mumbai and see a crowd around a cart with a heavy cast-iron pan on a makeshift stove, you can bet it's a vada pav vendor. And you owe it to yourself to go try it, because it's one of the best street foods in this city.
Where to find it: Vada pav carts are scattered across every street in Mumbai. But Nitin Patil's vada pav stall (IC Colony Road, Borivali West, map), at the heart of IC Colony opposite the famous IC Church, is one of the best; it's been featured in the national newspaper. The best time to go is at 5pm when the fire is started—once the first batch of vadas are out, there's a constant throng of people that doesn't abate until about 8, or when he's sold out.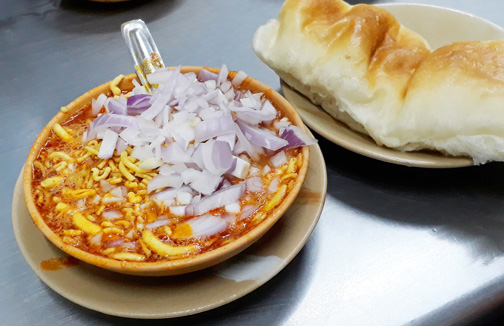 Misal
This classic Maharashtrian breakfast dish consists of sprouts in a spicy gravy heavily topped with crunchy potato chivda farsan (spicy fried potato and gram/chickpea flour sticks), onions, tomatoes and a splash of lemon. Served with a traditional ladi pav bun, it's a typical Marathi dish that is delicious and hearty.
Where to find it: Traditional Maharashtrian enclaves like Dadar have the best restaurants to enjoy misal, such as the ever-popular Aaswad (61 Sadanand, opposite Amar Hind Mandal, Gokhale Road (North), Dadar West, map).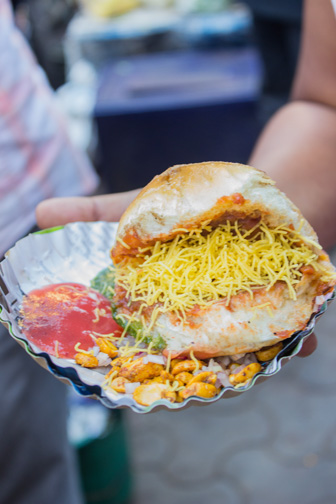 Dabeli
Dabeli is another popular street food that originally came from Kutch, Gujarat; because of this it's sometimes called Kutchi dabeli. Boiled potatoes are prepared with a special spice called dabeli masala that's made from dried coconut, red chilies, bay leaves, cloves, and other whole spices. Often it is served with pomegranate seeds to add crunch and lend sweetness to the spicy mixture. Served over bread this is a sumptuous evening snack.
Where to find it: The Bombay Canteen (SB Road, Process House, Kamala Mills, map) makes an entire meal of its dabeli topped with sev (crunchy slivers of fried gram flour) and served with chips and a dip.
Bread Pakoda
Anything deep-fried is extremely popular in Mumbai, and so this Punjabi transplant, bread pakoda, has been quite the hit. Slices of bread are stuffed with a spicy vegetable mixture, dipped in a batter of gram flour, and deep-fried to golden perfection.
Where to find it: To enjoy your bread pakoda you must also have some piping-hot chai. MusTea Teateria (Shop 1, Buddha Nagar, Kondivita Village, Ram Krishna Mandir Rd, map) in Andheri offers them both as part of its "Bombay special."
Ragda Puri
Golgappas from Delhi and phuchkas from Calcutta were rechristened in Mumbai as pani puri. However, as all things morph in this city, gradually Mumbaikars started adding ragda, or chickpea gravy, to their semolina puris. Along with this chickpea gravy, a tamarind-date chutney and chaat masala mixture, plus a topping of mashed potatoes, onions, coriander, and dried mango, makes this crunchy streetside snack Mumbai's own. Each plate typically serves six puris.
Where to find it: Everyone in Mumbai knows that you must try the chaat and ragda puri stalls at the Mumbai Chowpatty beach, like Bombay Bhel Puri, 70, Juhu Beach, map). Here you can enjoy plate after plate of ragda puri right on the beach with the ocean lapping at your heels.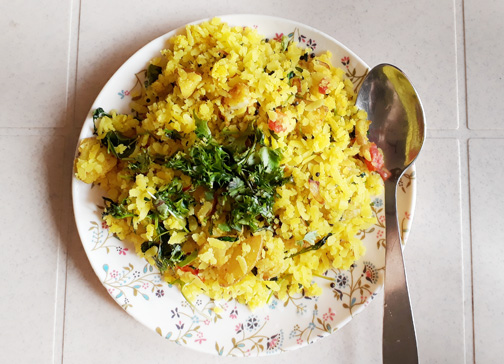 Poha
This is a Marathi breakfast dish made of flattened rice called chura. The poha is made with onions, mustard seeds, coriander leaves, and green chilies and is lightly spiced with nigella seeds and turmeric. Often it is served with peanuts and fried potatoes.
Where to find it: Vinay Health Home (Jawahar Mansion, 71/83, Thakurdwar, Dr Babasaheb Jaykar Marg, Fanas Wadi, Naka, map) serves traditional Marathi food and, for the past 50 years, has become synonymous with delicious poha.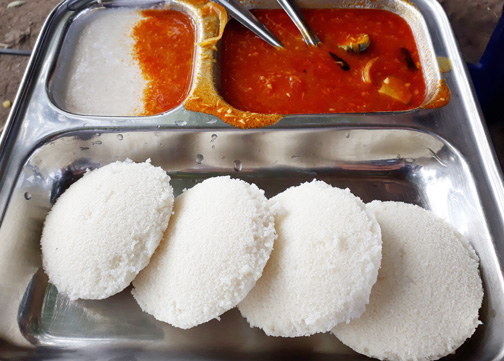 Idli Sambhar
This South Indian import is nothing but steamed rice cakes, drenched in a vegetable-laden lentil curry and coconut chutney. It's simple and healthy. You can either choose to dunk your idli in the sambhar, or lentil curry, or have them soak up all that spicy curry and then eat the juicy chunks of moringa pods (aka "drumsticks"), pumpkin, and eggplant. This dish is particularly popular because it's super cheap (just 30 INR, or 40 cents) and is a meal that can double as lunch too. Moreover, many Udupi-style restaurants will replenish your sambhar every time a server passes (sometimes you have to request this, but it's still free of charge).
Where to find it: Mysore Café (461 Durlabh Nivas, Bhaudaji Rd, map) in Matunga is by far the most popular and unpretentious place for idli sambhar. Even India's richest man on the Forbes list, Mukesh Ambani, prefers to eat here when he has a craving for South Indian food.

Photo by Eat Your World
Kebab Roll
Who doesn't enjoy the Mughlai delicacy of succulent meat, grilled to perfection? Kebabs and kebab rolls are the typical street food dinner in Mumbai when people want to celebrate. The chicken or mutton kebabs are marinated overnight and then grilled right in front of your eyes. Served with a mint chutney in Indian flatbreads (chapatis or roomali rotis), this is a must-try for everyone. And for vegetarians, there's the option of paneer kebabs. Yum!
Where to find it: Mumbai's iconic kebab counter, Bademiyaan (Tulloch Rd, behind Hotel Taj Mahal, Apollo Bandar, Colaba, map), has been serving kebabs since 1946. You cannot go wrong with any kebab you order here, but we definitely recommend the succulent lamb seekh kebabs. If you're not keen on lamb, try the chicken seekh kebabs, which are served in soft rotis with mint chutney and freshly squeezed lime. The hero here is the meat, with its subtle smoky flavor.
Irani Omelet
The classic Irani omelet is one of the most famous breakfasts you can have in Mumbai. Lightly spiced and mixed with chopped coriander, onions, tomatoes, and chilies, there's nothing that special about it. Maybe it's the butter Parsis use. For whatever reason, the Irani omelet is still a very popular street food here. Enjoy it with a cup of sweet Irani coffee and your day will be gold.
Where to find it: The oldest Irani café, Kyani, and Co. (JSS Rd, Jer Mahal Estate, opposite Metro Cinema, Marine Lines, map), still serves buttered bread with its omelet, 113 years after the Parsis first opened their café in Mumbai.
Vegetable Sandwich
This is something you can easily make at home, yet everyone in Mumbai loves to eat it on the street. The vegetable sandwich is one laden with onions, tomatoes, cucumbers, potatoes, and, of course, the "Mumbai special" coriander chutney, served on buttered bread. You'll often find it outside railway stations, where there will undoubtedly be a crowd around the sandwich maker.
Where to find it: Outside Vile Parle station, Lucky Sandwich (corner Station Rd. and Bajaj Rd., Navpada, Kamala Nagar, Vile Parle West, map) is very popular with the college crowd and is a must-try.
About the author: Pamela Q. Fernandes is an author, doctor, and medical writer. As a Goan who was born in Kuwait and has lived in Mumbai, Goa, Delhi, Pune, the Philippines, Chicago, and New York, Pamela has the heart of a traveler. You can find out more about her at her website, tweet her @PamelaQFerns, or message her on Facebook.