Larb tofu, pomelo salad, corn fritters and more—here's your guide to eating vegetarian and vegan (and holding the fish sauce) in Bangkok.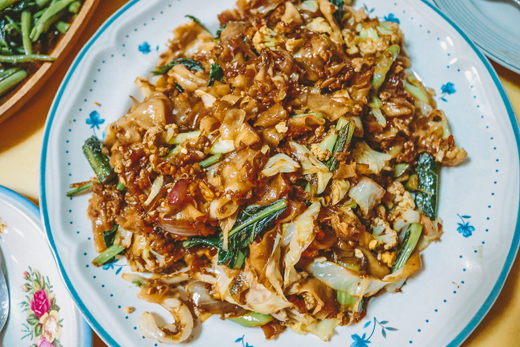 Pad see ew. All photos courtesy of Kelly Iverson.

Calling all adventurous, meat-free diners: This guide is for you. Thailand may be best known for its dreamy beaches and abundance of temples, but is also, of course, every food-lover's dream for its inherent knack with spice and gorgeous nuanced flavors. And, happily enough, this does not exclude vegans and vegetarians! However, as with any foreign place, it is not always easy or immediately apparent what is truly vegetarian-friendly; there are phrases to know, things to look out for (hello, fish sauce!), and restaurants that should be on your short list. To simplify the process for you, here's our guide to dining meat-free in the Land of Smiles.
*Note: Many dishes in Thai cuisine are made with fish sauce or in a broth with meat in it (primarily chicken)—it is an inescapable reality here. Be sure to use this guide to help you avoid these dishes, and tell your server, "Mai sai nam pla" (ไม่ใส่น้ำปลา), meaning, "Do not put fish sauce." We made note of the dishes that typically include fish sauce below.

Key Phrases
All spellings are phonetic, but we've also included these phrases in written Thai, should you find it easier to show your server the characters rather than attempt to speak it (or risk being misunderstood). See also the note about fish sauce above.
Mawng Sa Vee Rat (มังสวิรัติ): Vegetarian
It will probably take a few times to get used to saying this phrase, but it's definitely worth the practice. Often, it is easier to say the word for vegan (gin jay) rather than use this more complicated phrase, but there is a religious connotation with that phrase (see below). Try to master it—if all else fails, switch to a few other helpful phrases like "I don't eat meat," below, to ensure you are understood.
Mai Gin Neau Sat (ไม่กินเนื้อสัตว์): I Do Not Eat Meat
Mai means no, gin means to eat, and neau sat means meat. This ever-important phrase is how to convey: I don't eat meat! It is usually interchangeable with the word for vegetarian, though this can also accidentally imply that you do eat fish, so be aware of that.
Gin Jay (กินเจ): Vegan
The word jay can be used to refer to anyone who does not consume any type of animal product—this includes meat, seafood, eggs, dairy, and honey. However, some locals who identify as jay will not eat anything that grows underground, like garlic or onions, either, as they follow Jainism, the ancient Indian religion that practices nonviolence (including for those insects who may be negatively affected by uprooting vegetables). When using this phrase you are effectively saying you eat a Jain vegetarian diet, which should serve your needs in ordering food—but it helps to be aware of the religious reference.
Other Helpful Phrases
This round-up of phrases may seem random, but there is a method to the madness! Unlike in some countries where the word "vegan" is enough to order a meal without any animal products added to it at any point, this is not the case in many Southeast Asia countries. Instead, you will often find yourself listing off all of the things you cannot eat until you finally get that meat-free meal you're craving. In case you find yourself in that situation, here are the main types of meat consumed in the country:
Mai (ไม่): No
Gin (กิน): Eat
Neua Sat (เนื้อสัตว์): Meat
Gai (ไก่): Chicken
Neua (เนื้อ): Beef
Moo (หมู): Pork
Pla (ปลา): Fish
Pla Mook (ปลาหมึก): Squid
Poo (ปู): Crab

What to Order
Though it may seem like meat, or neua sat, can be found hanging on every street corner, there are plenty of other meat-free dishes that are just as delicious. Now that you know how to order, let's look at some of the best vegetarian orders for breakfast, lunch, and dinner. Get ready to dig in.

Pomelo salad
Breakfast, Lunch, and Dinner
There aren't really breakfast items in Thailand — in the mornings, you'll find that expats, locals, and tourists alike all dine on what many Westerners would consider to be a lunch or dinner-type meal, so feel free to eat any of these dishes at any time of day.
Yam Som-O (ยำส้มโอ): Pomelo Salad
Pomelo salad is a dish that both omnivores and vegetarians should try while traveling to Thailand. It is also one of the healthier dishes on our list and is flavored with juicy peeled pomelo (a sweet citrus fruit), garlic cloves, lime juice, and a little bit of sugar.
**Made with fish sauce.
Som Tom (ส้มตำมะละกอ): Green Papaya Salad
Green papaya salad is a flavor-exploding combination of peeled papaya, tomatoes, spicy Thai chiles, and carrots, paired with that Thai staple, sticky rice. Be aware, however, that sometimes this dish is made with dried shrimp and fish sauce, so be sure to tell the server or food preparer that you are vegan (or say: "Mai sai nam pla"/ Do not put fish sauce).
**Made with fish sauce.
Yum Ma Muang (ยำมะม่วง): Green Mango Salad
This salad is almost as tasty as som tom and features similar ingredients but instead has peeled green mango as its starring item.
**Made with fish sauce.
Gang Liang Pak Ruam (แกงเลียงผักร็อก): Thai-Style Vegetable Soup
This delicious soup features a variety of veggies including baby corn and pumpkin with added spices, lime, and basil for an extra kick of flavor. It is often made with prawns, but vegans and vegetarians can instead request tofu.
Pad Thai Sai Kai (ผัดไทยใส่ไข่): Thai-Style Fried Noodles With Egg
As Thailand's national dish, pad Thai is a must-try—and you'll likely find it's not as sweet as the versions you may know from home. Sai kai simply means "add egg," so if you're vegan, order pad Thai and say, "Mai sai kai." It is made with a delicious mix of thin rice noodles, palm sugar, bean sprouts, and red chile powder.
**Made with fish sauce.
Pad See Ew (ผัดซีอิ้ว): Stir-Fried Flat Noodles
Similar to pad Thai but arguably even better is pad see ew—another stalwart you've probably tried at a Thai restaurant at home. The rice noodles for this dish are flat and flavored with soy sauce and garlic.
**Made with fish sauce.
Gang (แกง): Curry
There are five main curries that Thailand is known for: green, red, yellow, panang, and massaman. All are delicious and rich with coconut milk, and all can easily be made without meat—try substituting mushrooms or tofu—although fish sauce is typically present. (Tip: If you're spice-averse, stick with massaman curry!)
**Made with fish sauce.

Papaya salad

Snacks/Sweets
Kluay Buad Chee (กล้วยบวชชี): Bananas in Coconut Milk
You will often find this snack substituted with sweet potato, but we personally enjoy it best when it's made with bananas. They are soft and sweet after being boiled with sugar, and served with warm coconut cream.
Khao Neaw Ma Muang (ข้าวเหนียวมะม่วง): Mango With Sticky Rice
This is Thailand's most famous dessert, and no trip here is complete without eating it at least once! Hot sticky rice is piled with sweet mango, with a delicious sweet taste thanks to added palm sugar and coconut milk.
Thod Mun Khao Pod (ทอดมันข้าวโพด): Sweet Corn Fritters
If it's made with corn, it has to be a little bit healthy … right? Not necessarily, but this is one snack you'll want to indulge in regardless. Yellow corn is chopped, combined with rice flour and spices, then deep-fried and served with a sweet chili sauce.
Kluay Thod (กล้วยทอด): Deep-Fried Bananas
What's even better than bananas in coconut milk? Fried bananas! These are found at street vendors around the country and are easy, on-the-go snacks.
Popia Tod (เปาะเปี๊ยะทอด): Deep-Fried Spring Rolls
Filled with shredded vegetables, these crunchy spring rolls are best eaten dipped in sweet chili sauce. A bag of these can cost you less than a dollar and makes for a tasty appetizer.

Durian: tastes better than it smells.
Fruits
Thailand is home to an abundance of fruit—and the tropical climate means many of these fruits grow year-round. The fruits here are also incredibly cheap, with bags costing as little as 20 baht (about 60 cents). From dragon fruit to mango to guava and more, there is a fruit sure to please every palate. Some of our favorites to look out for:
Ngoh (เงาะ): Rambutan
Linchi (ลิ้นจี่): Lychee
Chompoo (ชมพู่): Rose Apple
Kanon (ขนุน): Jackfruit
Mung Koot (มังคุด): Mangosteen
Gael Mangon (แก้วมังกร): Dragon Fruit
Ma Muang (มะม่วง): Mango
Lumyai (ลำไย): Longan
Farang (ฝรั่ง): Guava
Toorian (ทุเรียน): Durian

Mangosteens
Restaurant Guide for Vegetarians in Bangkok
Bangkok does have its fair share of vegetarian and vegan restaurants—you just need to know where to look, and be willing to stray outside Thai cuisine. Here, we reveal some of our favorite meat-free finds for you to enjoy while visiting the City of Angels.
May Veggie Home
Looking for 100 percent vegan cuisine? Look no further, as that's what you'll find at May Veggie Home, a venue that's been in business since 2013. It is located right off the BTS Skytrain Station Asok and has one of the most extensive vegan menus of all the restaurants on our list, with the bonus that it features mostly local dishes, including Thai curries, tom yam soup, larb tofu (a minced meat salad turned veg-friendly), and more. 8/3 Sukhumvit Soi 16, Asoke Sukhumvit Intersection, Ratchadapisek Road Klong Toei, map
Veganerie Concept
If you love faux meat, Veganerie Concept is the venue for you. There are a total of five Veganeries in the capital; each one features a variety of international and Thai vegan dishes. It works wonders on things like mushrooms and cauliflower, and also offers a wide variety of desserts. 35/2 Soi Methiniwet (Sukhumvit 24) Klongtan, Klong Toei, map
Broccoli Revolution
This trendy vegetarian restaurant is renowned for being the best meat-free venue after dark. Grab a glass of wine and enjoy its vegetarian dishes inspired by Thailand, Vietnam, Mexico, and more, including a mashed pumpkin burrito, an Indian chickpea curry, and pesto tortilla pizza. 899 Sukhumvit Road, Klong-Nua, Vaddhana, map
Govinda Italian Restaurant & Pizzeria
You've never tried vegan cheese as good as the faux-dairy products at this spot, located right off the BTS Skytrain station Phrom Phong. It offers a delicious array of meat and dairy-free Italian items including pizza, pasta, gnocchi, and more. Be sure to try the soy meat too! 6/5-6 Sukhumvit Soi 22, Sukhumvit Rd., Opposite Holiday Inn Hotel, Klongtoey, map
Khun Churn
If faux cheese and meat aren't up your alley, instead beeline to Khun Churn, with two locations in Bangkok. This restaurant is proud of its dishes, which mostly surround fresh vegetables and/or tofu. Its motto "Healthy food, good life" certainly rings true in all of the menu items, like the tasty khao soi (wheat noodles in red curry), yam som-o (pomelo salad), and larb (minced "meat" salad made with steamed and chopped tofu). Sukhumvit Soi 42, Mediplex Building, ground floor, map

Rasayana Raw Cafe
Raw food fanatics, rejoice! At Rasayana Raw Café, not only does everything on the menu lack animal products, but all of its dishes are also made gluten- and wheat-free and served raw! Indulge in the tasty food while surrounded by lush greenery at this quaint cafe. Some of the best orders include the vegan Hawaiian pizza, eggplant lasagna, and pomelo salad. Soi Prom-Mitr, Sukhumvit 39, map
Saras Veg Food
You don't have to travel to India to indulge in fabulous vegetarian Indian cuisine—instead, make your way this restaurant. Since 2010, it's served up vegetarian-friendly cuisine hailing from every region of India. It's a great spot to sample a few dishes and split among friends! 15 Sukhumvit Rd, Khwaeng Khlong Toei, Khet Khlong Toei, Krung Thep Maha Nakhon, map
Markets in Bangkok
This being Thailand, in addition to restaurants, there are plenty of markets and food courts, at which you can find several vegan and vegetarian stalls. Be on the lookout for yellow-and-red flags, which shows potential diners that a stall is serving up meat-free cuisine. One of the cheapest and most delicious of the stalls we know is found in MBK Center at the food court, a spot called J Restaurant. You can select several dishes like pad see ew and stir-fry tofu over rice for just a few bucks. There's another vegetarian food stall in the food court at Terminal 21. Top up your card with baht and choose from several local Thai veg dishes, including classics like morning glory.
MBK Center: 444 Phayathai Rd, Khwaeng Wang Mai, Khet Pathum Wan, map
Terminal 21: 88 Soi Sukhumvit 19, Khwaeng Khlong Toei Nuea, Khet Watthana, map

Look for this yellow flag to find veg-friendly food in Thailand!
Vegetarian Festival
If you are in Thailand during October, you must partake in the Vegetarian Festival, Tesakan Gin Jay (เทศกาลกินเจ), a weeklong celebration for vegans and vegetarians—well, kind of. The festival is rooted in Taoist beliefs and believed to have originated in China and made its way to Thailand. There are loads of places that wave yellow flags on their food vendors, showing hungry diners that they're selling vegan food. Phuket, Chiang Mai, and Bangkok (specifically in Chinatown) are the best places to celebrate and eat. The festival is a time for cleansing—which is why people go vegan!
About the author: Kelly Iverson works as the marketing manager for a socially responsible hostel in Southeast Asia. When she's not feeding stray cats in her free time, you will likely find her reading fiction or writing articles that aim to shed some light on subjects she's passionate about—including veganism! Check out more of her work on her website.