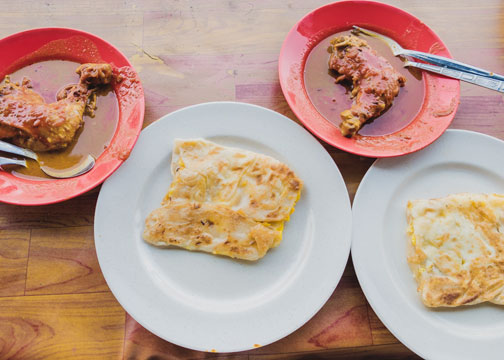 Roti canai + chicken leg for breakfast. All photos courtesy of Food and Footprints.

In this guest post, the duo behind Food and Footprints—fellow Queens-based eaters and travelers—share some favorite local finds from a spontaneous trip to Penang, Malaysia (never mind that they thought they were going to Cuba!).
In Malaysia, Pulau Pinang, or Penang Island, is acclaimed for its diversity and high quality of food—a fact apparent when you're strolling through the UNESCO World Heritage city of George Town, the island's capital (and the country's second-largest city, behind Kuala Lumpur). Within a short stretch, there are beautiful Buddhist, Hindu, Muslim and Catholic places of worship. Its British-colonial past is reflected in some of the architecture; Chinese-signposted storefronts show the legacy of the many migrants who've been drawn to the island. With such cultural influences, it's no wonder there's a tremendous variety of culinary delights to be found here.
Although we didn't have a lot of time on this trip, we were able to eat a nice selection of staples, and gather ideas for more to eat on a future visit. Below are the highlights condensed into a one-day food-tour format, which pairs perfectly with exploring the many sights on foot. Not only is it delicious, but you'll also burn off some of the calories along the way!
Roti Canai and Roti Bakar
Roti Canai; Transfer Road 110-114; Jalan Transfer, George Town
We began our days in Penang at this breakfast-only Mamak stall on Transfer Road. Mamaks are the Indian Muslims who brought roti canai, perhaps Malaysia's most famous street food, to the country. We've had roti canai many times in Queens, but this fluffy, freshly made flatbread was on another level here. Each one is a dense and chewy vessel that's just perfect for soaking up the curry from the accompanying fall-off-the-bone-tender chicken leg on the side.
Here you can also try buttery roti bakar, for which white bread is slathered with butter, griddled to a slight crisp and then covered with soft, yolky eggs. Although the flavor here pales in comparison to the roti canai, it is a nice complement to the stall's namesake dish. Pair the two together and the great breakfast goes up a notch.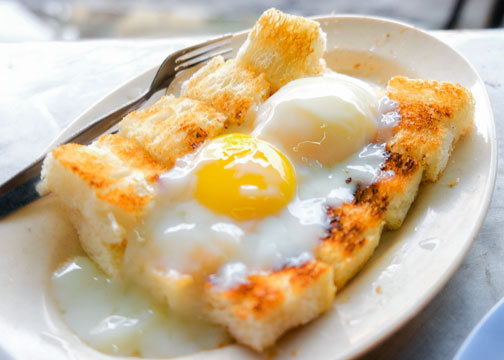 Roti bakar
We enjoyed this spot so much that we went on back-to-back mornings. Not only is it perfect for breakfast, it is also centrally located for wandering the streets and admiring the colonial architecture.

Nasi Kandar
Nasi Kandar Line Clear; beside 161 & 177 Penang Road, George Town
Tucked into an alley is the well-known Nasi Kandar Line Clear, serving up plates of the namesake rice-and-curry dish. For the uninitiated, nasi means rice and kandar means balance. The reason for the name goes back to the buckets of rice and curry that were carried on the shoulders of hawkers. There's no need to balance it on your shoulders here, but each plate does provide a nice balance of rice and meat of your choosing.
In our case, we went with lamb curry topped with mustard seed and curry-laced cabbage. On the side, sliced cucumbers added a cool, refreshing crunch. We also opted to have the spicy broth on the side, which was great for dipping the lamb in and ladling atop the rice. To wash it all down, we had a classic iced kopi (coffee with sweetened condensed milk) and an iced tea.
This location is open 24 hours a day, so your nasi kandar cravings can be satisfied any time of day. Our visit was in the morning, when we were the only customers in the place—aside from the scrawny stray cat waiting for us to drop a morsel.
Nasi Lemak
Ali Nasi Lemak; Sri Weld Food Court; Beach St., George Town
After strolling past some more landmarks and George Town's northern coastline, we mustered up enough of an appetite to eat more. On Beach Street, the Sri Weld Food Court is busy with locals and nearby office workers at lunchtime. At the entrance on the right-hand side is the Ali Nasi Lemak stall. Nasi lemak is considered the national dish of Malaysia and can be made in a variety of ways, with coconut rice serving as the base and a variety of (usually spicy) accompaniments. While this dish can comprise a full meal with rice, meat, nuts, and dried fish atop banana leaf, this stall specializes in the smaller, snackier version: just rice topped with some seafood and sambal
An efficient assembly-line-style operation is part of the draw here, with rice in bowl-formed mounds lined up atop banana leaves. Several options are available, all with a seafood component. Each pile is topped with spicy sambal (chili sauce) and either shrimp, cuttlefish, anchovy with egg, dried fish with egg or a whole fish. After the topping is ladled on, each piece is wrapped up in the banana leaf, forming a pyramid.
This type of nasi lemak is perfect as an on-the-go snack, or several of them can serve as a full meal. We ate one at the table and took a few to go for eating on Batu Ferringhi beach on the island's northwest side.
Char Koay Teow
Kafe Ping Hooi; Tiger Char Koay Teow stall; 179 Lebuh Carnarvon, George Town
Another staple in Penang is char koay teow, which translates to "stir-fried rice-cake strips." This wok-fried noodle dish has a heavy Chinese influence and is also found in neighboring Singapore. In fact, it is frequently called "Penang char kway teow" at restaurants around the world, reflecting the importance of this delight to the island.
The hearty mixture of flat rice noodle, soy sauce, prawns, cockles, chives, bean sprouts and sambal belacan (shrimp paste) is superb, especially with the smoky taste from the wok. Historically, this was a cheap and filling sustenance for laborers. Interestingly, fishermen who caught the cockles also sold char koay teow for additional income.
We got our char kway teow from Kafe Ping Hooi, a coffee and tea shop with a few hawker stalls in front. We ordered from the Tiger Char Koay Teow stall and added duck egg, which gave it a richer flavor. Another nice touch was that the plate came with a banana leaf on top. We paired it again with iced kopi, which offers wonderful contrast to the umami-laden dish.
Chendul
Penang Road Famous Teochew Chendul; Jalan Penang, George Town
Following all that rich fare and walking in the heat, the perfect frosty concoction come midafternoon is chendul, also known as "cendol"—a mixture of shaved ice, coconut milk, palm sugar syrup, red bean, and green jelly noodles made from pandan. This dessert is well-known throughout Southeast Asia with different variations, including Indonesia's es cendol.
The Penang Road Famous Teochew Chendulstall speaks for itself, with a perpetual queue of locals and tourists alike. It dates back to 1936 when its founder, Tan Teik Fuang, began selling the frozen dessert at Penang Road. It has remained in the family throughout the years and is now run by his sixth son, Tan Chong Kim.
The whirring sound of the shaved ice grater hums as each bowl is made to order. What makes this version so great is that there's just a touch of sweetness—no overwhelming cloyingness—thanks to the right balance of ingredients and ice. We enjoyed it so much that we went back for a second!

Oh Chien (Oyster Omelet)
New Lane Hawker Center; Lorong Baru, George Town
A trip to Penang wouldn't be complete without a stop at a night market. After a walk through the city and a visit to the beach, a night market is the perfect way to cap off the day. New Lane Hawker Center, located southwest of the above places, opens at 4 p.m. each afternoon. Plastic stools are strewn across the closed road of Lorong Baru.
Here, we sought out another signature Penang dish: oh chien, or oyster omelet. One of the stalls made an excellent version with plentiful juicy, briny oysters mixed in with scallions, garlic, and chili powder. The consistency was a balance between crispness and a gooey fluffiness from the egg-and-rice-flour batter. Accompanying this seafood-laden omelet was a cup of chili sauce, recommended to add some heat and tang.
Regretfully, we were unable to spend more time in this amazing culinary wonderland due to time constraints. However, the introduction to the tremendous dishes here was a great way to scratch the surface of what Penang has to offer. There are plenty of other specialties on the island, not least of all the wonderful assam laksa. But that only means there's lots more to be explored and sampled on our next visit.

About the author: Based out of Queens, New York, Greg and his partner, Jumi, formed Food and Footprints to share their tips and adventures across the globe and in their hometown. They seek out flight deals and tirelessly scour for the best local eats. Greg is a born-and-raised native New Yorker while Jumi hails from the Visayas region of the Philippines.

WANT TO SAVE THIS FOR LATER? PIN IT HERE.