Our paulista writer dishes on what to eat and where in São Paulo, Brazil.
Anthony Bourdain is not a big fan of São Paulo: According to him, the biggest city in Brazil "feels like Los Angeles threw up on New York." It's true that to fall in love with this place, you have to look past the jammed traffic and the concrete jungle. But once you do, you'll discover a city that never sleeps, with many museums, theaters, lively nightlife, and terrific food, the complexity of flavors tucked into nooks and crannies, contributed by the Portuguese, the Italian, and a host of other immigrants who have landed here.
It's a city of great gastronomic restaurants, but it's especially famous for its sandwiches, deep-fried snacks, and sweets, as the fast rhythm of the town dictates the need for quick but tasty meals. Ideally, once you get here, you'll find a paulista (a São Paulo native) to act as your tour guide. Failing that, here's some of the best you'll find on the food front.

Pão na chapa e média
("Pow-na cha-pa ee meh-dia")
There is no better way to start your day than with a média, or latte (5,50 reais) and some pão na chapa (2,80 reais)–basically grilled bread and butter. The roll (pão) is cut in half, covered with butter, and grilled on a chapa, or flat grill, until crispy. The best pairing to it is a média, espresso with milk. You'll find this traditional breakfast in any bakery (padaria) in town–everyone has their favorite spot.
Where to get it: Open 24 hours, Dona Deôla (+55-11-3022-5640; multiple locations including Rua Pio XI, 1377, Alto da Lapa, map) is a favorite spot for this dish (2,80/5,50 reais for the pão/média). Join the paulistas at the counter for the best seat in the house. Besides the great pão na chapa, it's also a good place to have lunch, if you're up for a sandwich.

Pastel
("Pah-stel")
At any street market in São Paulo (and there are many, every day), you'll find a pastel stand. Look for the corner vendors–there will be plastic stools and a metal counter, probably crowded by lunchtime. A rectangular, thin sheet of dough is filled with various ingredients–most traditionally palmetto (hearts of palm), mozzarella cheese, or minced meat with parsley and chopped olives–and deep-fried until crispy. Resist the urge to take a giant bite; rather, break the tips, so the steam comes out (the roof of your mouth will thank you). And don't go for the ketchup–ask instead for the molho de pimenta, a pepper sauce. Pair your pastel with a caldo de cana, a naturally sweet juice made of crushed sugarcane, best served with a splash of lime.
Where to get it: Pastel da Maria (2373-7071; multiple locations including Rua Fradique Coutinho, 580, Pinheiros, map) started as a food stand at street markets, but after winning the title of best pastel in town in 2011 (at a contest organized by city hall), it became famous and can now be found at six different addresses. You'll find other dishes on the menu, but nothing compares to its pastel, especially the minced meat variety (5,50 reais each).
Bauru
("Bah-oo-roo")
Named after a city near São Paulo, this has become one of the most iconic Brazilian sandwiches in town. As the story goes, a law student from Bauru came to the restaurant Ponto Chic in the 1930s and asked for a sandwich with thinly sliced roast beef, melted cheese (usually mozzarella), fresh tomato slices, and pickles. (Typically the bread is a hollowed-out French roll.) The concoction took off, its name forever entwined with its inventor's hometown, and the rest is history.
Where to get it: While you can find various incarnations of this savory sandwich in eateries everywhere, the 92- year-old Ponto Chic (2373-7071; multiple locations including Praça Oswaldo Cruz, 26, Paraiso, map) still serves its famous original recipe (19,80 reais), attracting area students and workers every day in search for dinner.

Bolinho de bacalhau
("Bo-leen-yo day ba-ca-lau")
This creamy cod-fish fritter has Portuguese origins, but it's evolved to become the paulista favorite food to eat while sipping a cold beer–it's a snack you'll find in every boteco, a pared-down (and very popular) version of a bar. The fish is soaked, desalted, and cooked until soft; then it's mixed with potatoes, parsley, eggs, flour, and deep-fried (or baked) till crispy.
Where to get it: At the boteco Pé pra Fora (3672-4154; Avenida Pompeia, 2517, Pompeia, map), the bolinhos (5,50 reais each), which are shaped atypically long, are fried to order and served with slices of lime. (The plastic tables are a good indicator that you're at a quality boteco.) Go around 6pm, when it's liveliest, for the happy hour, and get a cold beer to go with it.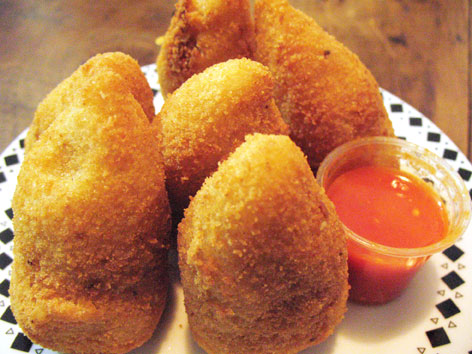 Coxinha
("Co-sheen-ya")
This delicious everyday snack is what locals go for when they're hungry and need a quick fix. Formed into the shape of a chicken thigh (coxa), the golden-fried, croquette-like coxinha, made of a dough of boiled potatoes, flour, and chicken broth, is filled with seasoned shredded chicken and sometimes catupity, a Brazilian cream cheese of sorts. It's usually served with pepper sauce.
Where to get it: In the district of Vila Mariana, Veloso (5572-0254; Rua Conceição Veloso, 56, map) is famous for making the best coxinha (21 reais for 6) in the city. Every night after 5pm, people line up outside this bar, seeking this snack and some caipirinha. You'd do well to join them.
Sanduíche de pernil
("Sand-weech day per-new")
This roast pork sandwich is a São Paulo icon: Pork leg is slow-roasted with onions, peppers, and tomatoes until soft. Before it's served, the thick-sliced meat goes back on the grill; then it's tucked into a roll (pão francês) and cut in half. The sandwich was traditionally the meal to eat after a fútbol game, but after most of the street food was prohibited around stadiums, it became a widespread late-night snack.
Where to get it: Open 24 hours, Bar do Estadão (3257-7121; Viaduto 9 de Julho, 193, Centro, map) is a downtown landmark, and a great place to try this sandwich. Sit by the counter and ask for a traditional one (plain bread and meat, 12 reais). You can also add various cheeses and even a slice of fresh pineapple to it.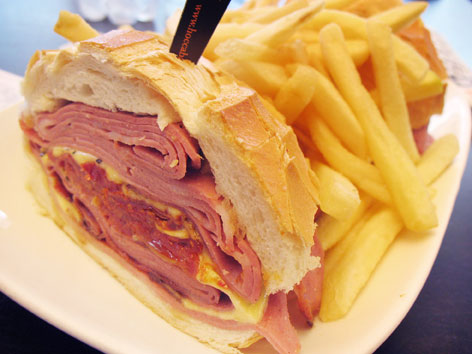 Sanduíche de mortadela
("Sand-weech day mor-ta-dela")
Pay no mind to the great amount of fries in the picture–there's another, more important pile to address on the plate. A gift of the Italians, thinly sliced mortadella–a lot of it–takes center stage in this sandwich, which has become a famed symbol of São Paulo cuisine. It's the one food everyone has to try at Mercado Municipal, the market known as Mercadão.
Where to get it: There are two places to know about for this dish at Mercadão (Rua Cantareira, 306, Centro, map): Bar do Mané (street E, stand 14), which "invented" the sandwich, and Hocca Bar (3227-6938; street G, stand 21), which servesmany versions of it (including the one pictured, with cheese and tomato, for 28 reais), as well as a tasty pastel de bacalhau (cod fish pastel).
Prato Feito (PF)
("Pra-toe fay-toe")
At first, it was just a simple, tasty meal for workers looking for an inexpensive lunch–a blue plate special of sorts. Now, the prato feito (often abbreviated as PF on menus) is in practically every bar in São Paulo, and each one has its own peculiarities. The base is always the same–rice, beans, a protein (like grilled steak or chicken), salad–but the add-ins vary widely, from a fried egg to pork cracklings to french fries.
Where to get it: Inspired by the bars of Rio, Pirajá (3815-6881; Avenida Brigadeiro Faria Lima, 64, Pinheiros, map) displays tables out on the sidewalk, on a leafy corner. Choose between beef filet with caramalized onions (pictured), chicken breast, or pork steak, served, of course, with rice, black beans, and salad or fries (between 30-36 reais). Once there, ask for one of the best chopes (draft beer) in town: creamy with foam and perfectly cold.
Brigadeiro
("Bree-gah-day-roe")
Brigadeiro (Brigadier) Eduardo Gomes, a candidate for Brazil's presidency in 1945, had many female admirers, thanks to his good looks. As one of the origin stories goes, at a committee party in São Paulo, this truffle-size sweet–made of condensed milk cooked until thick and sticky, cocoa, and butter; rolled into small balls and coated in chocolate flakes–was presented by his lady fans and promptly named brigadeiro. Now the dessert has many flavors, like lime, coconut, vanilla, and more.
Where to get it: Maria Brigadeiro (3085-3687; Rua Capote Valente, 68, Pinheiros, map) is a café dedicated to the sweet and its many variations (it sells more than 40 types). Sit at the table outside, ask for an espresso, and taste as many as you can, from almond to dark chocolate and even powdered milk (3,75 reais each). Take home a box of your favorites as a souvenir!

Pudim
("Poo-deem")
This rich, creamy flan arrived in São Paulo via the Portuguese and before long rose to national-dish status. There are many variations, but traditionally it's made of eggs, sugar, whole milk, and condensed milk that's cooked until jelly-like in consistency. Like its cousin crème caramel, pudim is served topped with a light caramel sauce.
Where to get it: Famous for its sanduíche de pernil (above), Bar do Estadão (3257-7121; Viaduto 9 de Julho, 193, Centro, map) is also known to serve a mean pudim de leite condensado (5,50 reais). Both dishes make the perfect excuse to visit Estadão, the quintessential paulista downtown diner that never closes.

All photos by Daniel Ottaiano except where indicated.
About the author: Paulista-born and raised, Daniel Ottaiano is a food writer, a cook, and a slow-food enthusiast. After a year spent traveling around Italy to discover the secrets of the best cheese and wine, he returned to São Paulo with the mission of reproducing the Italians' passion and respect for local ingredients.