Everyone will tell you: Don't dine in Times Square; it's all touristy overpriced nonsense. And there is some of that, sure. But there are also plenty of spots that are not that—at least 26 of them, by our count. And you really ought to know about them if you're considering where to eat in Times Square. Last update: Nov. 23, 2021.
Although New Yorkers may say they don't eat in Times Square, inevitably they do—lots of us have worked in or around the area, or attend the occasional Broadway show or other event that requires a trip here. And a visitor to NYC really can't escape it. Nor should they—everyone coming to New York has to see Times Square!
Thankfully, it's not the food wasteland it's purported to be (and indeed used to be). But it is usually crowded. And overwhelming. You'll want to have a game plan, whether you are here for lunch, dinner, drinks, the whole pre-theater shebang or something quick and easy. And especially if you're with kids. Here's our guide to where to eat (and drink) in Times Square—26 places strong.
*Note: For our purposes we are defining the Times Square area as 38th St.-48th St., between Sixth and Ninth Aves., for the most part.
Best Lunch Bets (or Budget Dinners)
Margon: This iconic Cuban luncheonette does inexpensive Latin American food, and it's the real deal. Specials change up daily, but you can always grab a stellar Cubano sandwich and score a plate of soulful black or red beans and rice, topped with a riot of pink pickled onions and, ideally, some sweet fried plantains. Seriously: Thank god this place still exists in Times Square. Open Mon-Fri, 6am-5pm; Sat, 7am-5pm. 136 W. 46th St., betw. Sixth Ave. & Broadway, map
City Kitchen: [*Temporarily closed due to pandemic] Food halls are, generally speaking, a dream for fast (also family-friendly) eats. There's something for everyone! This second-story one has great options for tacos, lobster rolls, sushi, ramen, fancy doughnuts, and more. You can eat at a counter overlooking bustling 44th Street below. Open Sun-Wed, 6:30am-9pm; Thurs-Sat, 6:30am-11:30pm (individual vendors' hours vary). 700 Eighth Ave, at 44th St., map
The Little Beet: In a part of town choked with hot dog and halal carts, this veg-friendly place is a welcome healthy option that's especially kind to anyone looking for vegan or gluten-free food (also soy-, nut-, or dairy-free). Choose from the greens- or rice-based bowls or customize your compostable plate with a grilled protein, seasonal sides—like the beloved cauliflower quinoa, or beets and lentils—and some ridiculously healthy "sauce," like turmeric tahini. Get it in where you can—your eating habits in NYC won't always feel so commendable. Open Mon-Fri, 11am-8pm; closed weekends. 135 W. 50th St., betw. Sixth & Seventh Aves., map

Num Pang Kitchen: The little Cambodian sandwich shop that could is now a NYC mini-chain, and it's consistently reliable for a fresh, flavorful lunch. There are soups and salads and grain bowls, but it's the baguette sandwiches we love, whether we're craving meat (grilled Khmer sausage; five-spice pork belly) or veggies (the grilled cauliflower is a good bet). Unfortunately the branch on 48th St. closed, but the "Times Square South" branch isn't too far away. Open Mon-Sat, 11am-9pm; Sun, noon-8pm. 133 W. 38th St., betw. Seventh Ave. & Broadway, map
Biryani Cart: Food trucks and carts are a fantastic lunch option to be had in this part of town, although many of them are mobile and therefore not reliably present. Try one that catches your eye, or head to this fixed-location cart for its signature biryani or, even better, one of its kati rolls. This was a frequent working lunch for us when we worked in this area! Open daily (roughly), 11am-4am. 46th St. and Sixth Ave., map. Another good bet a block south on 45th/Sixth, should you find Biryani Cart closed, is Kwik Meal.
Eating With Kids
Virgil's Real BBQ: In the heart of Times Square, this big, bustling BBQ restaurant is a welcome retreat for parents who want to sit down and chow down on all manner of BBQ meats and sides. The food's inherently kid-friendly, but there's a children's menu too. Great for large groups if you reserve ahead. Open Mon-Thurs, 11:30am-11pm; Fri & Sat, 11:30am-midnight; Sun, 11:30am-10pm. 152 W. 44th St. nr. Broadway, map
Dos Caminos: This popular, busy Mexican (local) chain restaurant has a fun vibe, good food, and kids' menus and crayons. Also a lot of tequila! Always a good option. This branch opens early, which means it has Mexican breakfasts (and more). Open Sun-Thurs, 7am-9pm; Fri-Sat, 7am-10pm. Weekday happy hours at 3pm-6pm and 9pm! Times Square branch at 1567 Broadway at 47th St., map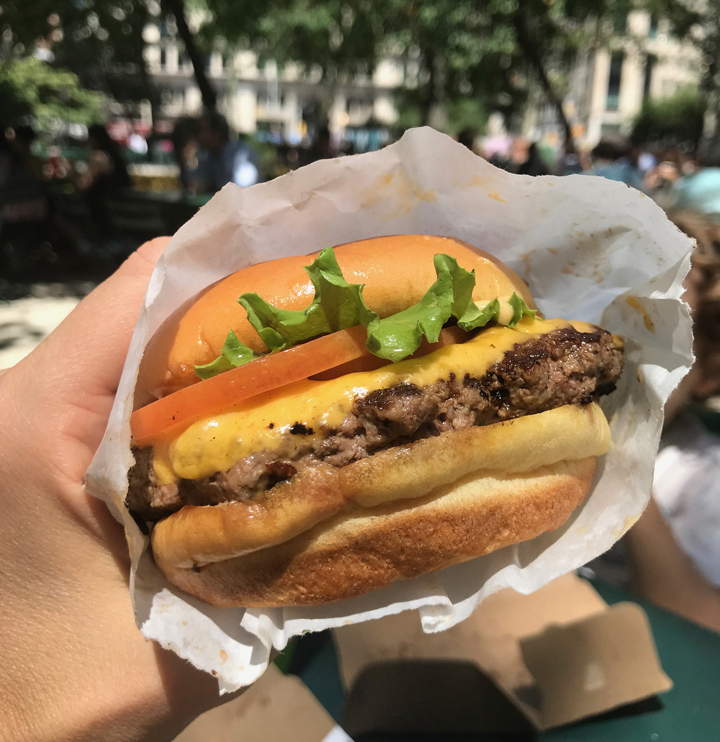 Shake Shack: It goes without saying that our favorite NYC burger mini-chain is great for families, what with the delicious burgers (meat and veg), fries, shakes, and beer. You can't go wrong—though this branch is often mobbed, unsurprisingly. Open daily 10:30am-11pm. 691 Eighth Ave. at 44th St., map. Another solid burger option if it's just too busy here is Schnipper's Quality Kitchen, a few blocks south at 620 Eighth Ave., betw. 40th & 41st Sts., map
Melt Shop: Pull up a picnic table at this specialty grilled cheese shop, with beer and wine for the parents. Kids' menu available, but … it's grilled cheese! (OK, also salads and sides and shakes. You probably should get some tater tots too.) Wed-Fri, 11am-8pm; Sat & Sun, noon-8pm. 135 W. 50th St. betw. Sixth & Seventh Aves., map
John's of Times Square: A classic thin-crust, coal-fired brick-oven New York pizza joint, housed in a soaring former church. Lots of toppings are on offer, as well as calzones, pasta, and salads. Pies only! Open daily, 11:30am-11:30pm. 260 W. 44th St., betw. Seventh & Eighth Aves., map
Pongsri Thai: This no-frills Thai restaurant has been around a long time, and while there's better Thai food to be found in New York (hint: go to Elmhurst, Queens!), it's a very solid option in the Theater District—and it has a branch in Bangkok too! Families are welcome, and there's plenty of kid-friendly non-spicy noodles and rice dishes on offer. Open Mon-Fri, 11:30am-3pm and 5pm-8pm; Sat, 5pm-9pm. 244 W. 48th St., nr. Eighth Ave., map
Tony's di Napoli: Since 1959, this red-sauce joint has dished out family-style Southern Italian food. It's the kind of food that everyone loves—lots of pasta, scampi, chicken Parm, meatballs—and there's plenty of it. Open Sun-Thurs, 11:30am-10pm; Fri & Sat, 11:30am-11pm. 147 W. 43rd St. (at Casablanca Hotel), between Sixth Ave. & Broadway, map
Traveling to Manhattan with kids? Check out our downloadable one-day Kid-Friendly NYC Food Itinerary!
Willing to Splurge (a Little)
Becco: It's easy to justify a nice meal out at this friendly Italian spot by Lidia Bastianich, between the extensive $35 wine list and choice of three $29.95 all-you-can-eat pastas. Open Tues-Fri, 5pm-10pm; Sat, noon-3pm; 4pm-10pm; Sun, 3pm-9pm. 355 W 46th St., betw. Eighth & Ninth Aves., map
Sushi of Gari: Super fresh, creative sushi (130 kinds!) plus traditional Japanese dishes, with the option for omakase, from the Times Square outpost of the popular mini-chain. Open Tues-Sat, 5pm-9:45pm. 347 W. 46th St., betw. Eighth & Ninth Aves., map
The Lambs Club: [*Temporarily closed due to pandemic] For that swanky NYC wood-paneled, red-leather-boothed, white-tableclothed vibe—plus good, if pricey, modern, seasonal American food—the Lambs Club, by chef-restaurateur Geoffrey Zakarian, delivers. There are pre-theater three-course meals available with half-bottles of wine, if that's your thing. Open Mon-Fri, 7am-10am, 11:30am-2:30pm, 2pm-11pm (10pm on Mon); Sat-Sun, 7am-3pm, 5pm-10pm (11pm on Sat). 132 W. 44th St. at The Chatwal Hotel, betw. Sixth Ave and Broadway, map

Our Go-To's
(Which is not to say we don't eat at any of these other spots; we have and we do. But if we're out in the area at night, we'll probably end up at one of these.)
Los Tacos No. 1: The Chelsea Market favorite has an outpost in Times Square, and it's all about those fresh tortillas (the nearly translucent flour ones are just as good as the corn, FWIW). Get as many tacos as you can (they're about $4.50 a pop) and some horchata to drink, then find some counter space—there's no seating here. Open Sun, 11am-9pm; Mon-Sat, 11am-10pm. 229 W. 43rd St., betw. Seventh & Eighth Aves., map
Ippudo Fifth Ave.: The downtown branch is beloved for its real-deal ramen and other Japanese dishes, and now Midtown has two Ippudos to call its own. This latest one near Times Square specializes in kasane broth, a pork and chicken blend, and is the only branch to offer takeout. (If you're craving tonkotsu (pork only), head up to the branch on 51st St.) Open Mon-Fri, 11:30am-3:30pm + 5pm-9pm; Sat, 11:30am-10pm; Sun, 11:30am-9pm. 24 W. 46th St., between Fifth & Sixth Aves., map. More ramen: We've long loved the narrow ramen bar at Totto Ramen (locations on 52nd St. and farther west on 51st St.), though there is always a line; a newer spot, Tabata Noodle, is a good second bet on Ninth Ave. at 40th St.
Sake Bar Hagi 46: Just west of Eighth Ave., on 46th Street, you'll find this great sake bar/izakaya option that's perfect for those late-night okonomiyaki/yakitori/mentai pasta cravings. Open Sun, Tues & Wed, 5pm-11pm; Thurs, 5pm-midnight; Fri & Sat, 5pm-1am. 358 West 46th St., betw. Eighth & Ninth Aves., map
Toloache: This lively two-level upscale Mexican restaurant keeps it real with tacos featuring chapulines, roasted grasshoppers, among its offerings, as well as wonderful guacamole and ceviche options and quesadillas from its brick oven. Reservations recommended. It has indoor and outdoor seating. Open Sun, 11:30am-10pm; Mon, 11:30am-10pm; Tues-Thurs, 11:30am-11pm; Fri-Sat, 11:30am-11:30pm. 251 W. 50th St., betw. Broadway & Eighth Ave., map
Where to Drink in Times Square
Jimmy's Corner: Our No. 1 pick, Jimmy's Corner is that rare oasis combining cheap drinks, boxing memorabilia everywhere you look, a jukebox, and a legit dive-bar stench. No matter it's a half-block from the heart of flashy Times Square. We love it. 140 W 44th St., betw. Broadway & Seventh Ave., map

Lantern's Keep: Hotel bars are generally a good bet around here, like this elegant one inside the Iroquois Hotel, where classic cocktails rule. Open Mon-Fri, 5pm-10pm. 49 W. 44th St., betw. Fifth & Sixth Aves., map

The Rum House: When you need that civilized, red-walled and wood-paneled piano bar experience, this swanked-up spot inside the historic Edison Hotel is it. Opens at 4pm daily. 228 W. 47th St., nr. Broadway, map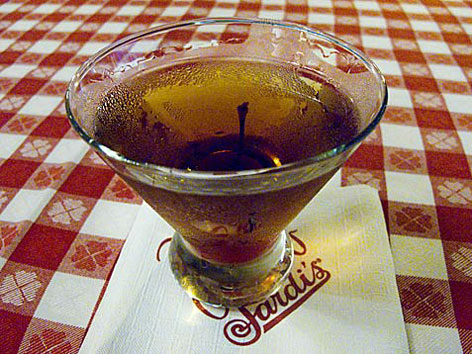 Sardi's: [*Temporarily closed due to pandemic] We admit we're suckers for a classic Manhattan at the mellow upstairs bar (after the pre-theater rush and on a weeknight, please) at this legendary time capsule of a restaurant. Open Tues-Sat, 11:30am-11:30pm; Sun, noon-7pm. 234 W. 44th St., betw. Seventh & Eighth Aves., map
Beer Culture: Our pick for craft beer-swilling, this chill spot is a hybrid bar and bottle shop with a great daily rotating list of international and local brews. 328 W. 45th St., betw. Eighth & Ninth Aves., map Craft beer fiends might also want to check out House of Brews, Valhalla, and Beer Authority for bigger selections (and also crowds).
We can help you plan your NYC food (and drink) itinerary! Check out our downloadable and custom itinerary options in our shop, and our Queens food tours here.
Want to save this post? Pin it here!