Our friends at Uniplaces, a student accommodation provider, share our belief that local foods are key to unlocking a new culture when you travel. And they made these adorable regional food maps to prove it.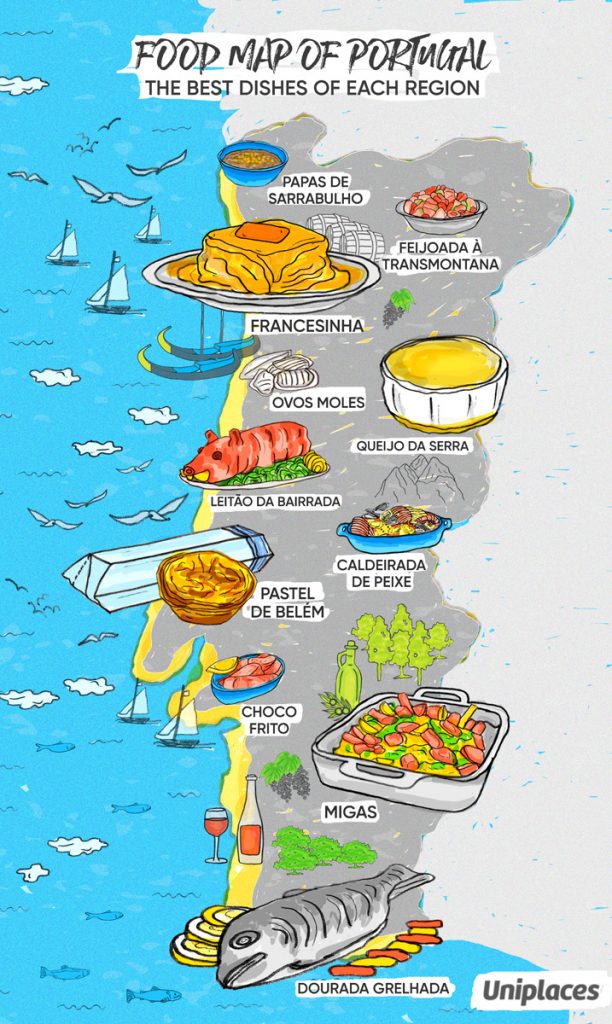 Portugal
Despite its small size, Portugal displays a great food variety. Known specially for its high-quality grilled fish and seafood, the country also has great meat options if you head to the countryside, like leitão à Bairrada (roasted suckling pig) or carne de porco à Alentejana (pork with clams). Ah, and you shouldn't miss the regional specialty from the two largest cities in the country, pastéis de nata (egg custard tart) in Lisbon and francesinha (an open-faced sandwich with sauce, cheese, ham, egg, sausage, and meat) in Porto. And the cheese … do not miss the buttery queijo da Serra and queijo de Azeitão—you'll love it!
Spain
It's hard to sum up Spain's culinary diversity in just a little blurb, but what can be said is that whenever one thinks about Spanish food, there are a few dishes that spring immediately to mind: tapas, paella, ham, Basque pintxos … and yet there is so much more than that! Depending on the region you will find very different recipes.
For example, if you go to Catalunya, you cannot miss calçots, a type of green onion. In Galicia, you can try the amazing seafood, particularly pulpo a la Gallega, a delicious octopus recipe with paprika. In Andalucia, nothing tastes better on a summer day than gazpacho. And carnivores will love the suckling pig and other roasted meats of Castilla y León.
Italy
Italy equals pizza and pasta, right? Wrong. Yes, if you go to Rome you definitely must eat some carbonara, and if you go to Napoli, the motherland of pizza, you have to try that, but there is way more than that! In the north you have meatier dishes such as cottolleta alla Milanese (breaded veal cutlet) and the incredible egg pastas of Bologna in Emilia-Romagna. In Florence you have bistecca alla Fiorentina, a hefty steak that will have carnivores begging for more. Risotto is another dish not to miss.
In the south fish dishes are king, and do not overlook the amazing Sicilian food! Also, you are forgiven if you have more than one dessert per day. After all, in the birthplace of gelato, tiramisu, and cannoli, who wouldn't?
France
France's cuisine is known for being fancy—we all know that. It's the land of nouvelle cuisine, small but tasty portions, amazing cheese, wine, and Champagne like nowhere else. But French food is mostly about the perfect storm of fresh ingredients and refined technique, even in the humblest of dishes. Get lost in this gastronomic paradise and you can have it all, from cassoulet in the south and seafood in the west to the pork dishes of Lyon and beloved moules frites in the north. And if you want a dessert, just look at this map: You'll find delicate tartes and crepes everywhere!
The United Kingdom

Let's be honest: The British Islands aren't famous for having the best food ever. But we're here to tell you that's just not true. Irish and British cuisine is hugely underrated. Of course in London you can easily find food from all over the world, and British culinary traditions mixing with those of the immigrants who live there. But all over the U.K. you have lots of other eats worth seeking out, like shepherd's pie, fish and chips, Cornish pasties, and Welsh lamb dishes.
Over in Ireland, you gotta try the famous Irish stew and, in Northern Ireland, the famous potato pancakes called boxty.
Germany
Germany, oh, Germany: the land of sausages and beer. Both are great, of course—national traditions and musts if you visit the country. Sausages come in every form you can imagine, from white sausages for breakfast in Bavaria (weisswurst) to sausages with curry and tomato sauce in Berlin. But there are other dishes to try beyond the obvious.
In the south you can have excellent meat dishes like eisbein (pork's knee) and maultaschen (ravioli-like pasta with minced meat, from Swabia), while in the north it's all about the fish. Don't miss the amazing soups as well, like linseneintopf, or lentil soup. If you have space for more, try a kirschtorte, a cherry and chocolate cake from the Black Forest region in southwest Germany. It's a mouth-watering combination!
This is a sponsored post.