A Mendoza vineyard. All photos by Sara Helmark
The gorgeous scenery, the endless vineyards, the hefty meat and sweet pastries—Mendoza, Argentina, has much to offer the culinary traveler. In this bustling city with a laid-back vibe, it's easy to visit for two days and wind up staying a month. The only downside? You might, like me, put on a few kilos while eating your way around this city. Trust me, it's worth it. Here's what to eat and drink in Mendoza.
Wine & Wineries
Home to beloved Malbec, Mendoza is, of course, one of the biggest wine districts of the world. Just on the outskirts of town, Luján de Cuyo is ground zero for Malbec production; the area became a gold mine when it was proclaimed to have the best soil for producing the varietal. After visiting Bodega Kaiken, a biodynamic vineyard, I could understand the claim to fame. Strolling through the wine fields, you'll encounter several species of animals—everything from sheep to ducks to horses wander the fields. And if you make your way down to the wine cellar of the winery, you'll be greeted by a big white angel statue, Indian symbols, shaded light, and what sounds like monks singing in a cathedral. The owner believes the sound waves from the music make the wine move just right. I don't know if that's the secret, but one thing is for certain, this place has some wines that'll make you forget all the worries of the world. I recommend trying the blend of cabernet sauvignon, malbec and petit verdot from the "Terroir Series." This wine was the reason I visited the winery in the first place; it's a wine with both body and soul, perfect for meat and cheeses.
Other wine areas to know about in South America's wine capital include Maipú and Valle de Uco. Maipú is the easiest wine area to reach from Mendoza's city center, just 30 minutes away by train, and you can rent bikes at the station upon arrival. There's nothing like riding a bike through the beautiful vineyards, stopping at wineries along the way. A tour and tasting at Bodega La Rural or Bodega San Lopez will give you good background knowledge of the wine production, and, of course, tastings of their delicious wines. At Bodega Mevi in Maipú, you can enjoy a seasonal lunch at the winery's in-house restaurant, with a bottle of red and the most amazing views of snow-capped mountains. To reach the Valle de Uco, your best option is to rent a car, since the area is about an hour away from the city. If you do make it, you'll be rewarded with the most gorgeous mountainous scenery and wines said to be sweeter than others in the region thanks to the sandy, loamy soil. See if you can taste the difference at Bodega Salentein, a winery (and art gallery) where the grapes are squeezed by hand. Pro tip: Making a reservation at these wineries before visiting will ensure a smooth visit.
Olive, Olive Oil & Olive Trees
Once you've had enough of the wine, there's the option of visiting one of the olive oil factories in the Mendoza area. I recommend a visit to Olivicola Laur in Maipú, founded by Fransisco Laur, a French immigrant; there you will get a good introduction to the process of making olive oil and balsamic vinegars and the opportunity to taste eight different olive oils and vinegars (along with a nice spread: sun-dried tomatoes, olives, bread, tapenade). Don't miss the LAUR Aceto Balsámico and the Virgen Extra LAUR Cruza de Piedra. I'll promise you'll never look at your salad the same way after adding this balsamic vinegar or olive oil to it.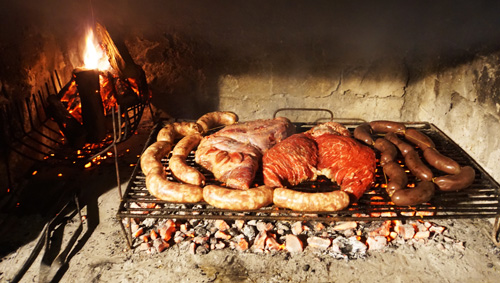 For the Meat Lovers
It's no secret that Argentina boasts some of the best meat in the world—and Mendoza is no exception. At El Nuevo Encuentro at Rodeo de La Cruz, carnivores are in for a treat between the parrilla and the free-flowing red wine. Parrilla, of course, is a word that covers anything from rabbit, pork, and beef to ribs, guts, and other off-cuts of an animal. Restaurants don't come more local than this one—I was surely the only tourist the night I visited.
For the asado, I suggest you make friends with some locals, since the best way to experience a real asado—the word refers to different big cuts of meat, but also the name for the ritual (and cultural tradition) of cooking and eating it—is in the company of an Argentine family. Asados occupy a special, sacred place in the heart of Argentines, a fact that becomes clear when you view the city from an overlook and can see smoke coming from at least 10 different asados. In Mendoza, the meat is barbecued with the use of fire and wood, whereas in Buenos Aires they use carbón, or charcoal. Naturally, there's an ongoing fight between the two cities about which method is best; the Mendocinos argue that wood imparts a better taste to the meat. I have to agree—and also, there's just something special about cooking your meat over fire.
Failing a local family's invite, you might want to combine your asado experience with a visit to the horse ranch El Jarillal in Las Heras. After touring the foothills of the Andes mountains by horse, the family will make you the most delicious asado, and, believe me, the company is great.
Drinks: Mate, Beer & Fernet
Socializing with the Mendocinos? Then you gotta try the mate, a form of caffeine-enriched tea consumed with a straw, or bombilla, as it's called here. Consuming mate is in many ways a social ritual—something you rarely do alone, but instead share with friends and family where the mate cup is passed from person to person. (Sadly for visitors, there's no real public place to go for your mate—though that would make a perfect idea for a startup business in Mendoza.) The drink itself consists of different tea blends or infusions; make it your quest to find your favorite one. If you're making it yourself, know this: Never let the water boil. It will ruin the flavors.
Less traditional than mate is the incredible variety of high-quality handcrafted beer in Mendoza. Check out the bar Antares at the beginning of the party street Arístides Villanueva to score a tasting of four different kinds of local beer for a small fee (the cream stout was my favorite).
For the stronger sippers, you can't avoid trying a Fernet con cola. The Argentines love their Fernet-Branca: Somehow, this Italian bitter herbal liqueur has become a national drink, especially mixed with Coke. The taste struck me as very medicinal the first time I tried it, but after consuming enough of it, it grows on you. A great place to get your Fernet con cola is likewise on Arístides Villanueva.
Pastries Galore
Facturas, or pastries, are an integral part of the day here, and there are many different types. Two of the most popular are alfajores and medialunas.The former are cookies filled with dulce de leche and topped with white sugar powder— reminiscent of French macarons, but definitely their own thing. Stop by the amazing bakery Die Oma at the street J. Rodriguez to try this signature Argentinian treat.
Medialunas, or "half moons," are quite similar to croissants: sweet, buttery, flaky. Everyone is always hunting for the best one in Mendoza; I found my favorite at La Veneciana on Pellegrini St. in the city center. Facturas go great with mate, and make for a lovely picnic in the park San Martín, close to the city center. The Mendocinos love spending their siesta at this park, which means you'll be enjoying your picnic in the company of locals.
A World of Empanadas
A crunchy roasted pastry filled with beef, chicken, or ham—what's not to love?! Empanadas can be found across South America, but I encountered the best ones I've ever had right here in Mendoza. Traditionally they are filled with beef, onion, eggs, and sometimes olives, but you'll find a lot of variety. If you really want to spoil yourself with something good, visit Roca at the street M. Olascoaga. At first glance, it doesn't look like much—it's just a small supermarket with a bakery—but behind the counter you'll find freshly baked, incredibly delicious empanadas. My favorite? The Caprese with cheese and tomato.
About the author: Sara Helmark is a writer, blogger, and full-time traveler with a love for local food and cultural differences.