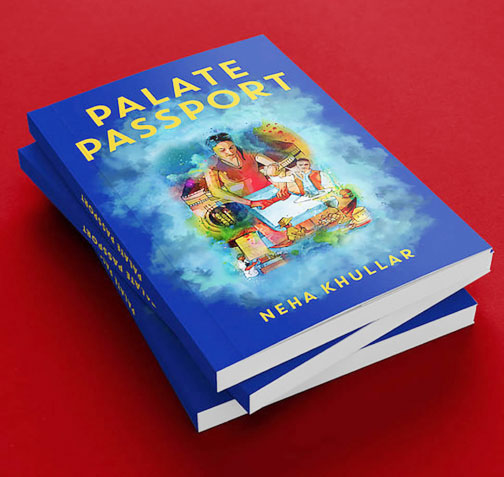 Photos courtesy Neha Khullar
Neha Khullar's new cookbook, Palate Passport, has a mission we can relate to: "Travel the world using food as a compass." We asked her a few questions about how the book came to be.

Please tell us a little about your background as a writer, traveler and cook.
Traveling is something that I've had the privilege to do since I was a child. I come from a globally spread-out family, which meant we traveled to see each other! Each phase of my life has consisted of travel and a love for eating local food. I've consistently returned from trips with a desire to cook that food once I was back home. Writing and telling stories came to me in my 20s when I started meeting many new people and inevitably telling them about my travels, or even what I did the previous weekend. While working in corporate America, I further learned the art of writing, framing a conversation and using my words in a clear and concise manner. Although my emotions were mostly missing from workplace writing, I can say that I was able to use that skill as my base to build my creativity on.

What prompted you to write Palate Passport?
I have wanted to write a cookbook for years! Whenever I cooked for family and friends, someone always mentioned opening a restaurant or writing a cookbook. I've always wanted to do both! Three years ago, I put that wish out into the universe, and little by little, I started meeting people who would eventually help me publish Palate Passport. It's been a wonderful experience of risk-taking, getting outside my comfort zone, letting go of people and things that do not serve me or my dreams, and learning brand-new skills!
I didn't study to be an author, writer, or chef; in college I studied accounting and finance. Creating this book helped me use a different side of my brain. At first I had to spend time peeling off my corporate-America identity and surroundings to become my authentic self–a creator and lover of food, culture, and community. I wanted to do this project because it was so much more than a book; it was a challenge and a huge risk.
The book that I envisioned required time and a constant emotional connection to the places where I visited; only then was I able to see how certain pictures would look good next to a particular recipe or story. I wanted my readers to travel page by page and be blown away in the process, almost as if they are actually traveling. It's difficult to draw that emotion out from a reader via a cookbook, and so the challenge made me want to do it even more! I knew I had the ability and heart to do it; I just had to let the universe show me the way and embrace it with open arms.
How did you decide on recipes for Palate Passport?
I have so many recipes that they aren't even all in the book! I wanted my first book to be a compilation of recipes and stories that touched my heart in a big way. The 136 recipes that I chose are so special to me. These are the ones that take me back to a specific moment that I want to share.

What do you hope to achieve with this book? I have a few goals related to this book. I want my readers to feel as if they have traveled a little through reading or even flipping through it. I want to convey a message that cooking doesn't have to be intimidating and is actually fun! My book cover resembles that coloring outside the lines is OK, so go ahead and experiment, because if made with love, any dish will taste beautiful.

What are your top three favorite recipes in the book, and why?
That's a tough one, because all of them are special to me, but if I have to pick three:
Soy sauce chicken: It's the first dish I ever made.
Singapore crab: Cooking it and seeing the finished product takes me right back to the hawker markets in Singapore.
Boeuf bourguignon: I've had a long-standing relationship with this dish. It's such a hearty and classic French dish. I love making it, and it always impresses.
Khullar's cucumber pomegranate salad
How about top three culinary destinations in the world?
Singapore: The history lends itself to a huge influence in the cuisine.
Portugal: Cheap, Mediterranean, and, again, with many influences in cuisine from history.
India: Every state has its own cuisine—there's so much to explore!

What do you cook for yourself on an average night?
These days I'm trying to get a bit healthier, so I tend to make things that are low-carb, like fried cauliflower rice, various soups, or a chicken curry. I made the cauliflower soup from Palate Passport last night!
On EYW, we ask users to share short food memories related to travel, a favorite meal, growing up—anything. Your book has lots of these, but can you share a brief food memory with our readers?
My book is full of food memories as well as the history of the dishes, but there are so many more! I don't know if I should go into how I used to be fussy with foods that I thought had a weird texture (until my 20s!), my continuous disgust with bitter melon gourd, though it's a staple healthy food in Indian households, or the best piña colada I ever had.
Well, the best piña colada I've ever had was from a street stall in an alley of a market in Cozumel, Mexico. After spending a few hours roaming the streets and buying silver jewelry and souvenirs, my family took a break from shopping. The alley had appeared as part of the tourist strip, but there weren't any tourists there. It seemed like it was the local hangout and perhaps filled with folks who worked in the shops nearby. There was simply a table with a blender and a bunch of ingredients. My family members ordered strawberry daiquiris, and I had a virgin piña colada—creamy, sweet, cold, and luscious—it is still the best one I've ever had!
Disclosure: We are a participant in the Amazon Services LLC Associates Program, an affiliate advertising program designed to provide a means for us to earn fees by linking to Amazon.com and affiliated sites. Some of the products on this page are affiliate links, meaning we will get a small commission if sales are made; however, each is here only because we really truly recommend (or have used) them ourselves.