Our latest city spotlight turns north to Montréal, where French-Québécois comfort food meets cosmopolitan nose-to-tail dining, innovative microbreweries, and old-school Jewish classics.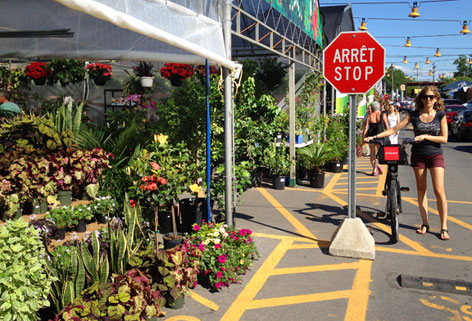 The flower market outside Marché Atwater
Montréal, just 330 miles north of New York City, is an increasingly exciting place to be, whether it's live music, cultural festivals, contemporary art, boutique shopping, or food and drink you're after. We are predisposed to favor the latter, naturally, and Canada's second-largest city, with its ethnic diversity and rich (if tumultuous) Franco- and Anglophone history, does not disappoint. Start by exploring the most regional of Québécois foods—the meat pies, pork spreads, beans in lard—and you'll begin to notice a theme: This is a meat-centric city. Given the area's bitterly cold winters and early-European-pioneer lineage of hunters, trappers, fur traders, and farmers, it's no wonder these foods became (and remain) associated with breakfast, the time of day to stock up on hearty, high-fat protein. The people's excuse for eating these dishes today? History, tradition, nostalgia—plus the food's damn good. Thankfully, many of them have survived even in cosmopolitan Montréal, right alongside more celebrated French favorites and those beloved, comparatively newer classics (smoked meat, bagels) introduced by European Jewish immigrants.
Which brings us to the modern-day new school of Montréal cuisine, embodied by certain packed-to-the-rafters hot spots that get the most ink from enraptured food writers today. But those younger foie gras temples, cuisine de terroir dining dens, and chic wine bars couldn't exist without that which came before. In our full Montréal coverage, we pay tribute to them all: the iconic luncheonettes and the carnivore cult favorites, the 24-hour poutine diners and the creative microbreweries, the sprawling farmers markets and the Parisian-style bistros. Together they comprise this vibrant city's overflowing cornucopia of good food and drink, and we think you should know each of them.
So what's to eat in Montréal? A few highlights:
Poutine, of course!
Perhaps Québec's most famous native specialty, poutine ("pooh-tin") is a simple dish of French fries topped with fresh cheese curds and hot gravy. Dating to around 1957, most likely originating in the dairy town of Warwick, poutine is the ultimate greasy, satisfying, sop-up-the-alcohol fast food of late-night diners and dives—but it's proven equally adept in more highfalutin settings as well.
Read more about poutine
See our favorite gourmet rendition of poutine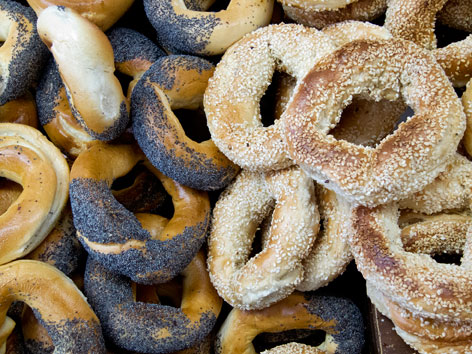 Bagels
Quite unlike New York bagels, Montréal bagels are a lean, sweet affair, hand-rolled pieces of dough briefly boiled in water sweetened with honey and then baked in an antique wood-fired oven on long, thin slabs of wood. In the dough is flour, water, sugar, eggs, malt, vegetable oil, and yeast; noticeably absent is salt. What results is a skinny bagel with a pronounced hole, nicely crunchy on the outside—thanks to those old-school hot ovens—and chewy inside, with a subtly sweet flavor. Their compact size makes them a damn good snack without spoiling your whole appetite, although you'll be tempted to order three.
Read more about Montréal bagels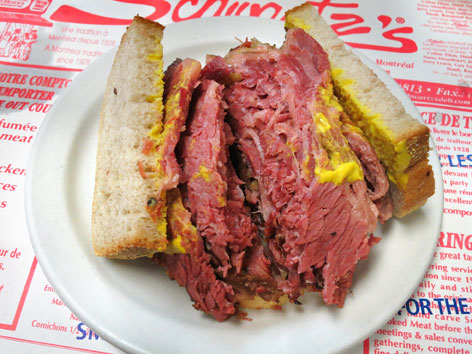 Smoked meat
A smoked meat sandwich or plate is a rite of passage in Montréal—an eye-rollingly delicious, carnivorous rite you should undertake whenever possible. But what is smoked meat? Beef brisket is salted and cured (usually dry-cured) with savory spices, and then smoked-cooked and steamed. It's hand-sliced while warm, and the soft, tender, seasoned red meat is thickly piled onto (or served alongside) rye bread, typically with yellow mustard. Mouth watering yet?
Read more about smoked meat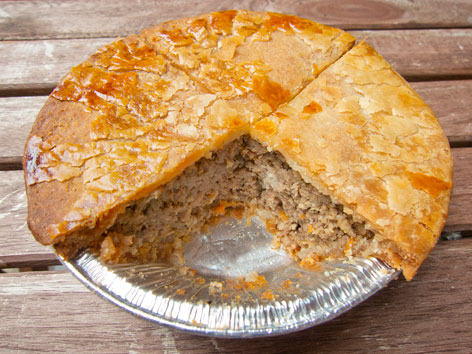 Tourtière
A traditional French-Canadian meat pie rich in regional variations, the Québécois tourtière ("tour-tee-air") is made of finely ground meat and spices like spices, nutmeg, cloves, and cinnamon, encased in a flaky pastry shell. It's a common holiday dish, prepared around Christmas/New Year's, and is often eaten with a relish-esque homemade ketchup (much like pâté chinois, another meaty Québécois favorite). While it's generally accepted that the dish has been present in Québec for several centuries—no doubt having been influenced by the older savory pies of France and England—the origins of its name are unclear: It might have come from now-extinct tourtes, or passenger pigeons (once cooked into the pies), or it might be named for the deep baking dish used to make the pies. Within Québec, tourtière is perhaps most famously associated with the Saguenay–Lac-Saint-Jean region, but it's well represented in and around Montréal as well.
Read more about tourtière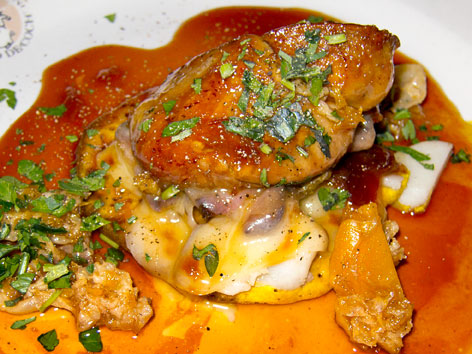 Foie gras everything
It's long been around in Montréal, thanks to the city's historic French influence, but recent years have seen a pronounced elevation of foie gras (fatty goose or duck liver) here. One might say that Montréal's crazy for the stuff, that it's hard to find a French or Québécois menu here that doesn't do something with the rich, creamy delicacy. Some restaurants in particular are so-called temples to foie gras, making them good spots to indulge—if you choose to indulge, that is. Above it's pictured in one of its many renditions at the famously decadent Au Pied de Cochon: the Plogue à Champlain, a signature dish of sliced potato, poached egg, cheddar cheese, and thick-cut bacon atop a buckwheat pancake, capped with seared foie gras and local maple syrup.
Read more about foie gras dishes in Montréal

Pouding chômeur
Pouding chômeur ("pudding show-mer"), which translates as "unemployed pudding" and dates, not surprisingly, to the Great Depression, exemplifies the Québécois capability for frugality…and for not mincing words. Made mostly with flour and brown sugar and a few other standard pantry finds—which included stale bread back in the day, making it more of a bread pudding—this simple, sponge-cake-like dessert is perfect for your average poor man (or anyone) with a sweet tooth.
Read more about pouding chômeur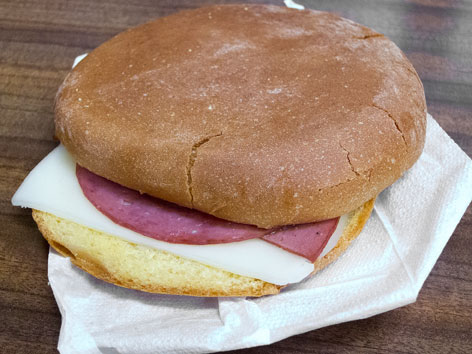 Wilensky Special
You can find this sandwich at only one place these past 80-plus years, a lunch counter legendary enough to warrant a visit on its own. But you gotta try the "Special" at least once in a visit to Montréal (or twice, if you're us). Slices of all-beef salami and bologna are pressed flat with (optional but recommended) cheese and mustard on a subtly sweet egg roll, with a meaty, toasty result not unlike a Cuban sandwich—but darker, saltier, and bolder in its simplicity. Served warm, it's a compact sandwich that packs a big, satisfying punch.
Read more about the Wilensky Special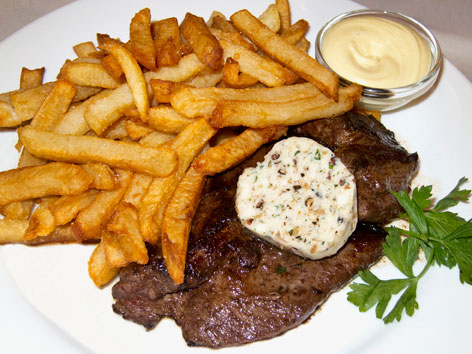 French bistro fare
In the years between its founding as a French settlement in the mid-17th century and its official francophone status today, Montréal has sometimes struggled to maintain its Frenchness—there was that pesky British conquest in 1760, the divisive French Canadian vs. English Canadian war politics of the 20th century, sovereign-rights issues in more recent decades, even ongoing concerns about perceived anglophone threats today. But through it all a hefty dose of French culture has prevailed that is most certainly witnessed (and tasted) in the city's dining scene, where Parisian-style bistros have long been in demand. Some of the grand dames might seem almost stodgy alongside the newer wave of cuisine de terroir restaurants and cozy buvettes, but you simply cannot come to Montréal and miss out on a classic French meal, like the steak frites from L'Express pictured above.
Read more about French bistro fare in Montréal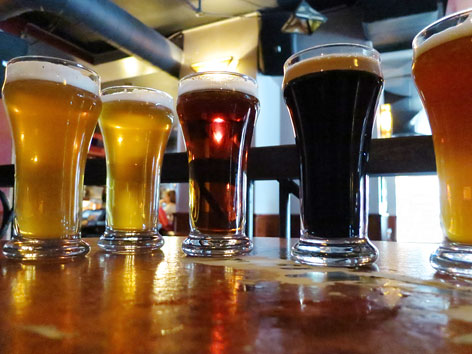 Local craft beer
Montréal is the darling of eastern Canada's, and maybe all of Canada's, beer scene, and for very good reason: In the land of mass-produced Labatt and Molson, Montréal was the first city in the country where brewers began to rethink beer in more creative, handcrafted terms. That was 25 years ago, more or less, and now there are some 20 breweries, most of them brewpubs, in Montréal, and many more nearby in Québec that distribute widely within the city. In our full roundup, we list a few of our favorites—like Dieu du Ciel! (pictured), where you can sample from 18 of its famously innovative beers on tap—to be sure you'll have no trouble staying happily well lubricated in this town. (And we promise you won't.)
Read more about local craft beer in Montréal

And that's just the tip of the edible iceberg in this vibrant French-Canadian city. Check out Eat Your World's full Montréal food guide for details on these highlights plus many more, from the city's favorite hot dogs ("steamies") and iconic orange drink to Québec's baked beans (fèves au lard) and most famous export, maple syrup.