Black sheng jian bao, a modern twist on a Shanghai classic
Shanghai is the biggest, and some would say most incredible, city in China. It's such a vibrant and fast-paced place, it's no wonder Shanghai cuisine emphasizes snack foods and street eats: Here, you can grab a bite at almost any time of the day. To celebrate that, here are 10 of the best street eats and snacks in Shanghai to try.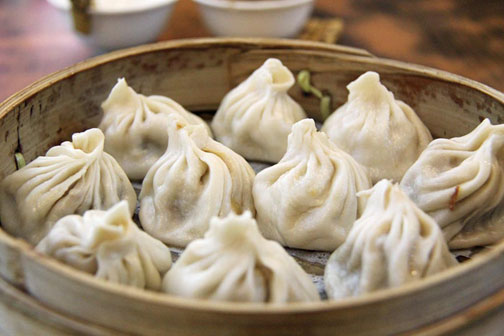 All photos by Eating Adventures.
Xiao Long Bao (Soup Dumplings)
Xiao long bao was first made in a dim sum shop in Shanghai in 1871. It is one of the few Shanghainese specialties that have become well known around the world (particularly in New York City, where locals have adopted the dish as one of their own). These soup dumplings are traditionally made with a minced pork or combination pork and crab filling, and a thin wheat-based skin. When steamed, the gelatine inside the dumpling melts into a soup. Great xiao long bao should have a thin, pinched wrapping and use good-quality meat inside.
Where to find it: You are spoiled for choice in Shanghai when it comes to xiao long bao. A few suggestions:
Fuchun Xiao Long
Three locations including:
Jingan District
650 Yu Yuan Lu
Tel: 021-6252-5117
Nearest metro: Jiang Su Road station (line 2 or 11)
Fuchun has three varieties of xiao long bao, our favorite of which is the crab.
Jia Jia Tang Bao
Multiple locations including:
Huangpu district
90 Huang He Rd
Tel: 021-6327-6878
Nearest metro: Renmin Square station (line 1, 2 or 8); take exit 8
Jia Jia Tang Bao is by no means a local secret, but sometimes restaurants are famous for a reason. Try to avoid lunchtime on weekends, as the wait can be long. An English menu is available.
Bull Frog Noodle Soup
No, this isn't just an eye-catching title: Bull frog is very popular in Shanghai, so if you want to try this soup, expect to queue up. Made from bull frog, wheat noodles, and green pepper, the soup is slightly spicy, and the frog, as they say, tastes like chicken. The bull frog itself is meant to stimulate your appetite as well as help any imbalances in your stomach.
Where to find it:
Ha Ling Noodle House
Huangpu district
8 Guangxi Nan Lu
Tel: 021-6320-2326
Nearest metro: Da Shi Jie station (line 8); take exit 1
This one's a no-brainer: Ha Ling Noodle House invented bull frog noodle soup. It's open 24 hours, and you may have to share a table.
Deep-Fried Dumplings (Zha Hun Tun)
Deep-fried wonton dumplings are a traditional snack from this region. Commonly made from wheat dough with a combination pork and prawn filling, the dumplings are fried to crispy perfection and served with a splash of vinegar. They make for an ideal late-night street snack.
Where to find it:
Ah Bao Pork Chop
Huangpu district
95 Yunnan Nan Lu
Tel: 021-6326-1574
Nearest metro: Da Shi Jie station (line 8); take exit 2
This place is easy to spot because of the queue of people going down the road. Pork chops, dumplings, and prawns are deep-fried on the street right before your eyes. If deep-fried dumplings don't excite you, the pork chop is very popular.
Salt-and-Pepper Water Snake
For this dish—common in both upmarket restaurants as well as at street stalls—the water snake is skinned, coated in a thin batter, and deep-fried, before being stir-fried with chilies and shallots, and finally sprinkled with salt and pepper. The snakes themselves are quite small and taste like a cross between chicken and a mild fish. They're normally kept alive on display outside the restaurants.
Where to find it:
Jin Huang Seafood Restaurant
Putuo district
467-473 Lan Xi Lu
Tel: 021-5266-3336
Nearest metro: Zhen Ru station (line 11); take exit 5
Located near the Tong Chuan Lu fish market, this upscale restaurant is famous for fresh seafood. Its specialties include both land and sea snake as well as snails. Expect to pay around 100 RMB (US$15) for a serving.
Crayfish
Shanghainese people love to eat crayfish—xiao long xia, which literally means "little lobsters"—in the summer. The crustaceans are farmed in neighboring provinces and often transported live to Shanghai. You can see them in buckets outside restaurants that specialize in crayfish.
The crayfish can be stir-fried in a few ways. "Ma la" involves cooking with spicy Sichuan peppercorns and chiles, salt-and-pepper is another popular choice, but the real favorite is shi san xiang style, which uses 13 different types of spices and herbs including cinnamon, cloves, chile, and fennel seeds.
As for how to eat them? They're best eaten with your hands: Take off the head, remove the shell, and enjoy the juicy flesh. Wash it down with a cold beer. Repeat.
Where to find it:
Shou Ning Road Eating Street
Huangpu district
Nearest metro: Lao Xi Men station
There are more than a dozen crayfish restaurants to choose from on Shou Ning Road, so you can take your pick. All the restaurants are open until very late. Make sure you buy crayfish that are still alive to ensure freshness. The street itself turns into a small night market after dark, with a few vendors and a vibrant atmosphere.
Crab Shell Pastry (Xie Ke Huang)
Crab shell pastry, called so for its appearance, became popular in Shanghai in the 1920s when the working class would buy it on their way to and from work. The pastry comes in both sweet and savory versions—the former uses sugar, rose, red bean paste, orred date paste for the filling, while the latter is stuffed with minced pork, crab, and prawn. The good ones have a light, flaky skin.
Where to find it:
Wu Yuan Cake Shop
Jingan District
255 Yan Ping Lu
Tel: 021-6256- 5556
Nearest metro: Chang Ping Road station (line 7); take exit 3
This cake shop makes the best crab shell pastries. It's a labor-intensive process, and according to the chefs at Wu Yuan, only government-run cake shops still take the time to follow traditional methods for baking these
The chefs at this government-run cake shop take pride in following traditional methods for baking these—it's a labor-intensive process, and many shops nowadays take shortcuts. You can tell in the finished result, as Wu Yuan's crab shell pastries are the best in town.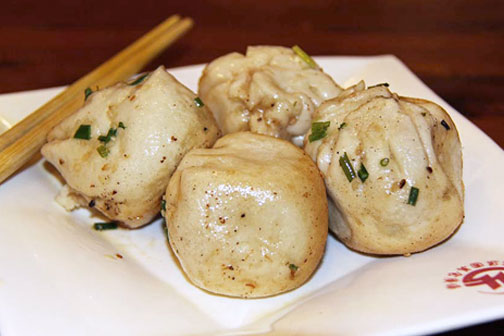 Sheng Jian Bao (Pan-Fried Soup Dumplings)
Another Shanghai specialty, sheng jian bao are pan-fried dumplings with a meat and soup filling and a doughy skin. These don't have the same worldwide fame as xiao long bao, but they're very popular in Shanghai, and possibly even more delicious. The meat filling is typically seasoned pork or a combination of pork and shrimp. There is less soup than in xiao long bao, as some of it gets absorbed by the thick dough. The bun itself will be slightly crisp where it's been fried, and should be a golden brown, not burned. Traditional sheng jian bao can be fried on any part of the bun, not just the bottom, and will be slightly sweet.
Where to find it: A few suggestions:
Feng Yu Restaurant
Luwan District
41 Rui Jing Er Road
Tel: 021-5306-1742
Nearest metro: Shanxi Nan Road station (line 1); take exit 4
Feng Yu Restaurant opened in 1958 and has won multiple awards for its sheng jian bao. It specializes in snack foods and has several locations in Shanghai.
Fry My Way
Huangpu district
60 Huaihai Dong Road
Tel: 021- 5352-1276
Nearest metro: Da Shi Jie station (line 8); take exit 2
For an unusual modern spin on this stuff, try the black shen jian bao stuffed with minced fish and cheese at Fry My Way. The black buns are made with bamboo charcoal. At 38 RMB for four (about US$6), they are far from cheap, but make a nice delicious, eye-catching splurge.
Lamb Kebabs
Uighur people from Xinjiang province in far west China are the largest Chinese minority living in Shanghai, and have brought with them their distinctive cuisine and love of lamb. Shanghai provides a great opportunity to try their Uighur food without having to travel all the way to Xinjiang.
The lamb kebabs here are made from fatty cuts of lamb and seasoned with a spicy mixture of chili powder, salt, pepper, and cumin. They've become a popular snack for the Shanghainese; look for people queuing around smoky open barbecues.
Where to find it:
Friday Muslim Market
Jingan district
Corner of Ao Men Rd and Chang De Road
Nearest metro: Chang Shou Road station
Near Huxi Mosque in Jingan district, there's a bustling Friday market (11am-3pm) where you can find everything from lamb skewers to central Asian breads and Xinjiang melons.
Shanghainese Green Onion Pancake (Cong You Bing)
These pancakes are a popular breakfast snack in Shanghai, although you can usually buy it until late afternoon. Made from a dough rather than batter and cooked in pig oil, they are pan-fried until crispy. The dough contains a healthy serving of shallots and some pork. You can find this sold by street vendors throughout the city, and even straight from people's back doors—just look for a queue in an alleyway!
Where to find it:
Da Ge Zi Cong You Bing
Chang Ning District
222 Lane 172 Hua Yang Lu

The vendor here has the nickname Da Ge Zi, which means "big unit"—and indeed he is a big guy who enjoys his own product. He's had this stall for 20 years with a loyal following. His cong you bing is thin and crispy, and served with a small amount of chili powder and soy sauce.
Deep-Fried Glutinous Rice Cakes (Ci Fan Gao)
Ci fan gao are made from glutinous rice, regular rice, salt, and oil; sometimes small pieces of pork are also included. The patties are deep-fried until crispy outside, while remaining soft and chewy inside. One of the four most common breakfast foods in Shanghai, they are generally sold at street stalls, but can also be found in some upscale restaurants—the quality of the rice used is what separates the good from the average. Expect to pay around 1.5 RMB (about 20 cents) at a street stall.
Where to find it:
Huang Pu District
Lane 428 Guangxi Bei Road
Nearest metro: Renmin Square station
Look for a little cart at the start of the lane with a deep-fry wok and a big wooden bucket, which is used to store the rice mixture. The owner's wife is a friendly woman, and the rice cakes are crispy without being too oily. Eating one of these with soy milk to drink makes for a great start to the day.
About the author: Originally from Hong Kong and currently based in mainland China, Wai Zhou is the co-founder of Eating Adventures Food Tours. Eating Adventures offers foodie tours in Hong Kong, Shanghai, and Guangzhou. Learn more about her Shanghai food tours here.