These egg waffles are one of Hong Kong's iconic street foods.
It's no secret that Hong Kong is a foodie's mecca. Local Hong Kongers take their food so seriously that people greet each other with the phrase nei sek faan meia: "Have you eaten yet?"
This city has one of the highest densities of restaurants in the world, leaving visitors spoiled for choice. Which creates a problem we'd all like to have: Where to start? Here are our tips for 10 must-try foods in Hong Kong:
All photos by Eating Adventures except where indicated.
Roast Goose
Once you've had great roast goose there is no turning back—you'll forever be haunted by the search for more. Goose has succulent red meat, and when made to perfection should have a thin crispy skin with not too much fat. It is like the best duck you have ever eaten, but better.
Where to find it: Roast goose is easy to find in Hong Kong, but many restaurants are average at best. To taste the real deal, head to Yat Lok Roast Goose (一樂燒鵝), in Central or Tai Po (two locations including G/F, 34-38 Stanley St., Central; 852-2524-3882). The restaurants are owned by two brothers, whose father started the first outlet in 1957.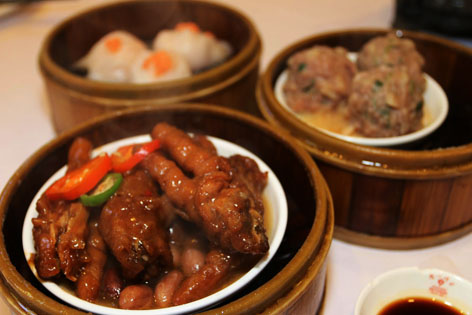 Yum Cha
If there is a single food experience that most represents Hong Kong and the Cantonese people, it is yum cha. In Cantonese it literally means "drink tea," but it refers to the traditional meal of dim sum accompanied by tea. People normally go for yum cha in the early morning through to lunchtime. Any good yum cha restaurant will have a wide range of tea for you to choose from, along with outstanding dim sum. We recommend ti gwun yum, a fragrant green tea, or Bo-lay, an aged dark tea, as alternatives to the ever-common jasmine tea.
Where to try it: Lei Garden (利苑酒家) is an upmarket Cantonese restaurant with 10 branches in Hong Kong (we prefer the one at 111-127 Sai Yee St., Mongkok, Kowloon; 2392-5184), six of which were awarded a Michelin star in 2015. To maintain the quality of the fresh produce it uses, Lei Garden established its own farm in 2010. Among other dim sum options, be sure to try the char siu (BBQ pork) and chicken feet in abalone sauce.
Dao fu fa
Dao fu fa is a popular snack in Hong Kong. Made from coagulated soybean milk—essentially very soft tofu—it can be eaten hot or cold and is normally served with a sweet sugar or ginger syrup. Good-quality dao fu fa should be soft and silky-smooth.
Where to try it: The tofu at A1 Tofu Company (103 Kweilin St., Sham Shui Po, Kowloon) is made from organic Canadian soybeans, and is known for having exceptionally great texture.
Snake soup
Snake soup is a true Cantonese delicacy. Don't be put off by the idea of eating snake—this soup is surprisingly tasty and not scary at all! It typically contains two types of snakes, some of which are venomous, and is thick with a complex flavor comprising, among other things, ginger, lemon leaves, fungus, and sometimes star anise. While the snake meat itself tastes like chicken, it is the flavor of the soup that will keep you coming back for more.
Because the Chinese believe this soup to be warming, it is particularly popular in winter, but you can find it year-round. It's said to be good for circulation.
Where to try it: Leung Snake King (298a Electric Rd., North Point; 2578-8135) is a tiny shop located opposite the City Garden Hotel. Be sure to call in advance, as it closes for Chinese holidays as well as every Sunday. There's no English menu, so to order snake soup say "ser gung."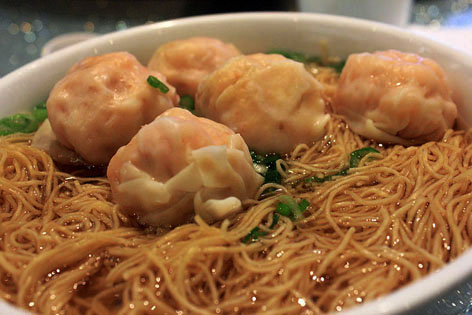 Photo by Yinan Chen/goodfreephotos.com
Bamboo Noodles
A traditional Cantonese method of making fresh egg noodles is by kneading the dough with a large bamboo pole. Bamboo noodles are hard to come by in Hong Kong nowadays, but a few places still keep the tradition alive.
Where to try it: At Lau Sum Kee Noodle (80 Fuk Wing St., Sham Shui Po; 2-386-3583), a shop that started as a street stall in 1954 by the current owner's grandfather, the staff makes fresh noodles every day using this method. The noodles are served several delicious ways, including in a soup or dry with shrimp roe.
Photo by EYW user bilbaobab
Gai Daan Zai
Gai daan zai, or egg waffles—made from a batter of egg, wheat flour, evaporated milk, and sugar—is one of the most popular Hong Kong street snacks. You'll encounter its sweet, tempting scent often as you wander the city streets.
Where to find it: It is easy to find gai daan zai in Hong Kong, but if you want to try one of the best versions in the city, head to Lei Kung Kee (492 Kings Rd., North Point), a hole-in-the-wall near North Point MTR. Expect long queues in the afternoon!
Lo Soi Goose
Lo soi goose originates from the Chiu Chow region of Guangdong province, representing one of the three types of Cantonese cuisine. (A large proportion of people who live in Hong Kong have parents or grandparents from Guangdong.) This specialty is far less common than other poultry dishes and is a true delicacy appreciated by those in the know.
Made from a special breed of goose called Lion Head—the heaviest can weigh more than 40 pounds!—the meat is tender and rich in flavor. The goose is braised in a big pot of broth with pepper, star anise, orange peel, cinnamon, ginger, shallots, rock sugar, soy sauce, and other herbs. The broth is reused daily to maximize flavor over time; in fact, some of the best Chiu Chow restaurants have been using the same broth for years!
Where to try it: Wing Tang Chiu Chow Restaurant(6 Chun Long St., Tsuen Wan, Kowloon; 2408-9355) is an old Hong Kong restaurant famous for its lo soi goose, selling up to 70 geese a day. The broth it uses is known to be particularly old, though we can't say exactly how old. Be sure to try it here with Luk On Tsa, a special type of black tea that's supposed to help wash down any greasiness from the goose.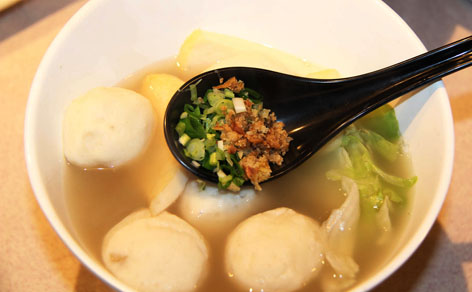 Fish Ball Noodle Soup
It's become a staple food in Hong Kong, but fish ball noodle soup also originated in Guangdong's Chiu Chow region. Traditionally the fish balls are made from a mixture of three fish, one of which is actually a variety of eel (the daggertooth pike conger). The soup typically includes fish balls, slices of fish cakes, crispy deep-fried fish skin, and rice noodles—a wonderful combination of textures and flavors.
Where to try it: Hong Kee (Unit CFS4 2F, Tai Po Hui Market, No. 8, Heung Sze Wui St., Tai Po) specializes in fish ball noodle soup; in fact, that's all it sells. Not surprisingly, the fish balls here have the perfect texture. The shop, located above a fresh food market in the New Territories, has been around for more than 50 years.
Congee
Congee is a rice porridge typically eaten for breakfast or very late at night. It has a smooth texture that's neither watery nor very thick, and tends to take on flavor from whatever add-ins it's cooked with, whether chicken, fish, beef, pork, pig's blood jelly, or mixed seafood. This is simple Chinese comfort food at its best. There's a lot of very average congee in Hong Kong, so it's worth putting in the effort to go somewhere good!
Where to try it: A favorite among locals, Mui Kee Congee (Shop 11-12, 4th floor, Fa Yuen St Market, Mong Kok, Kowloon) is located above a fresh food market. It serves everything from standard congee with sliced beef or fish to congee with pig heart or liver. To make life easier for foreigners, an English menu is available.
Tong Yuen
Tong yuen are glutinous rice balls typically containing a sweet filling, such as black sesame or red bean paste, often served in a syrup. It's a popular everyday Cantonese dessert that's also traditionally eaten on Chinese festivals—the name is similar to tuen yuen, which means "reunion."
Where to try it: Fook Yuen Tong Yuen (Shop i1, 7 Fook Yuen St., Fortress Hill, Hong Kong Island) makes some of the best black sesame tong yuen in all of Hong Kong. Served in a sweet ginger syrup, the glutinous rice has the ideal chewy texture, while the black sesame filling is smooth and sweet. The shop is tiny, so you may need to get your tong yuen to go. There's no English spoken here—order by pointing at a picture on the wall!
About the author: Originally from Hong Kong and currently based in mainland China, Wai Zhou is the co-founder of Eating Adventures Food Tours. Eating Adventures offers foodie tours in Hong Kong, Shanghai, and Guangzhou. Learn more about her Hong Kong food tours here.