Sri Lankan foods are diverse, packed with flavor, and generally very spicy. Here are 10 not to miss in the capital, Colombo.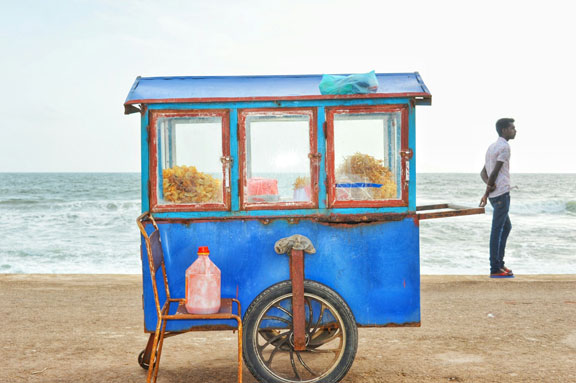 All photos courtesy of Zinara Rathnayake.
Although there are a few similarities to neighboring India, Sri Lanka's cuisine is all its own: diverse, largely very spicy, and flavor-packed. Thanks to a growing expat community, the food scene in the capital, Colombo, is thriving, with tons of restaurants and cafes serving many international and fusion cuisines. But thankfully, from upscale restaurants to hole-in-the-wall eateries, Colombo still caters to those who are looking for real-deal Sri Lankan food. Here are some of the delicious dishes you gotta try in Sri Lanka, and where to find them in the capital.
Rice and curry
Ask any Sri Lankan and they'll tell you that Sri Lankans eat rice and curry for breakfast, dinner, and lunch (it's true). Steamed or boiled rice is served along with four to five dishes of curry such as dhal (lentils) curry and other veg curries. According to your preferences, you might add another curry of fish, chicken, or beef. The dishes are also accompanied by mallung (leafy greens cooked with shredded coconut and spices) and pol sambol—scraped coconut mixed with chili peppers, ground Maldive fish, and a bit of lime juice.
Where to find it: While you can find rice and curry in every nook of Colombo, for an authentic taste, head to Upali's by Navaloka (65 C.W.W. Kannangara Mawatha, map).

Kiribath (Milk Rice)
Rice is cooked with rich coconut milk and a hint of salt until it turns soggy and porridge-like. Kiribath (milk rice) is commonly served with lunu miris, an onion relish mixed with red chili, salt, and lime. In Sri Lankan culture, milk rice symbolizes prosperity—hence, new beginnings such as the first day at work, birthdays, and festivals are often marked with a few diamond-shaped slices of milk rice.
Where to find it: It's nothing fancy, but Taste of Asia (324 Galle Rd., map), a midrange restaurant offering quality Sri Lankan food, serves great milk rice for breakfast.
Watalappan
The taste of watalappan—a rich, creamy coconut milk custard with nutmegs and cardamoms—is quite sublime. It's sweetened with kithul jaggery, concentrated sap extracted from the kithul tree, a type of palm tree in Sri Lanka. Since watalappan is a dessert widely popular in Sri Lankan Muslim culture, everyone in Sri Lanka eagerly waits for the Ramadan season to be offered watalappan from their Muslim friends.
Where to find it: Although one may argue that nothing quite tastes like homemade watalappan, Al Mas Indian Family Restaurant (45 Marine Dr., map) is a good bet for tasting real watalappan in Colombo.
Idiyappa (String Hoppers)
Preparing string hoppers is an art and a skill. To make them, red or white rice flour is pressed, squeezed onto hopper mats, and steamed. A popular breakfast or dinner option, string hoppers are often served with a dish of pol sambol, kiri hodi (coconut milk gravy), or dhal curry.
Where to find it: Alongside that rice and curry we recommended, Upali's by Navaloka (65 C.W.W. Kannangara Mawatha, map) is also a great spot for string hoppers—they're served there with pol sambol, dhal curry, chicken curry, or white fish curry.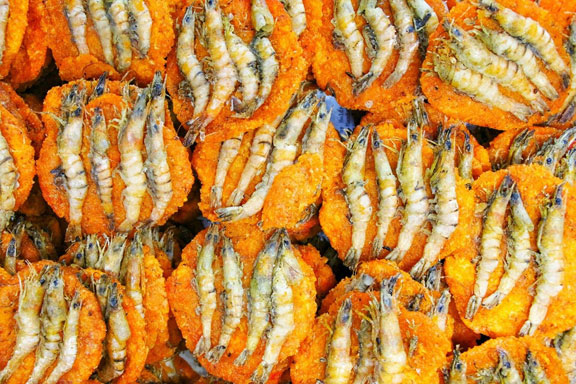 Isso Vadai
Vadai are tiny fritters, made with dhal. Deep-fried and crunchy, they're the island's favorite snack—I even have Sri Lankan friends living in Australia who only want to visit the island for this stuff. Isso (which means "prawns" in Sinhala) vadai add in a few prawns, as the name suggests. We locals enjoy vadai with freshly sliced onions and deep-fried red chili—certainly not for timid eaters!
Where to find it: Be it on local buses, long-distance trains, or in the small restaurants we call "hotels," you can find vadai sellers everywhere on the island. Best of all, however, is, in Galle Face Green (map), where isso vadai is offered with spicy chutney alongside freshly cut vegetables and onions.
Samosa
Packed with flavor, samosas are fried triangle-shaped pastries—stuffed with various fillings, mainly potatoes, veggies, chicken, and even beef—you probably know from Indian cuisine; here they have a real crunch when you bite into them, and can be face-reddening spicy at times. Samosas are best-enjoyed when fresh out of the pan with a cup of plain ginger tea.
Where to find it: A small no-name restaurant inside Fort Railway Station (map) next to the Commercial Bank ATM serves some of the best veggie and egg samosas. To gobble up a few piping-hot beef samosas, head to Wellawatta Mosque (48 Galle Rd., map): At around 4pm every day, a small makeshift stall sells them fresh out of the pan.

Hoppers
Soft, and thick on the bottom with crunchy, crispy edges, hoppers are a favorite dinner option in Sri Lanka. To treat your taste buds even more, the island has not just one but four varieties of hoppers. Plain hoppers and egg hoppers are easy to find in every small restaurant. They can be eaten with lunu miris (dried red chili sambol) and seeni sambol (caramelized onions with Sri Lankan spices). I prefer eating my hoppers with chicken curry, dhal curry, and pol sambol. Those who have a sweet tooth can try the other two types, milk hoppers and jaggery hoppers.
Where to find it: A popular spot for street food, Hotel de Plaza (3 Galle Rd., map) is a roadside restaurant with the best plain hoppers and egg hoppers.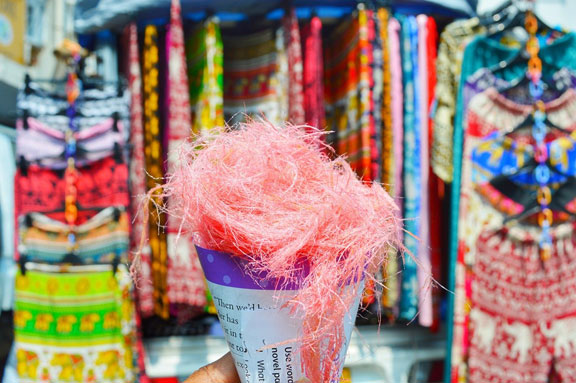 Bombai Muttai
Welcome to the Sri Lankan version of candy floss/cotton candy—only more sugary. Bombai muttai melts in your mouth in an instant. I have fond memories of going to Sunday pola (fair) as a wee kid with my mum only to buy a few bags of this. Think of a bright pink explosion in your mouth packed with strong, sweet taste. You are in heaven!
Where to find it: In Colombo, Galle Face Green (map) is pretty much the only place you'll find bombai muttai. There are usually a few hawkers there, so you're likely to come across one.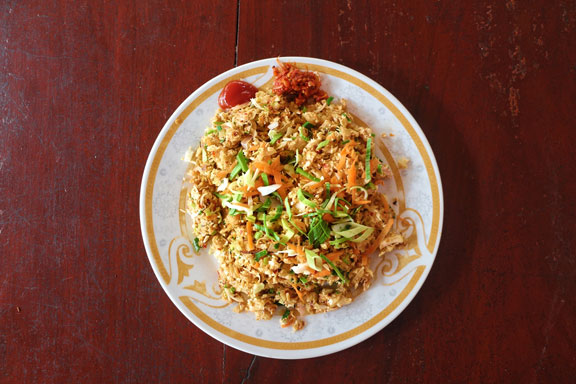 Koththu Roti
Koththu is a beloved dish that combines flatbread— specifically godhamba roti, a Sri Lankan variety that's akin to Indian paratha—chopped up and mixed with vegetables, meat, and spices. As previously mentioned, every roadside restaurant is a "hotel" in Sri Lanka. One of the chefs at each place chops the ingredients, adds them to a hot griddle, and proceeds to chop them further using two metal blades.
At every shop, you are likely to find the most common versions of koththu including chicken, beef, egg, and vegetable. If I had to pick a favorite, though, it'd be cheese chicken koththu—it's greasier (and creamier) with added Happy Cow cheese, and packed with so much flavor and spice to keep me coming back for more.
Where to find it: It's gotta be Hotel de Pilawoos (146 Galle Rd., map), Colombo's favorite street food joint. Open till late, people of all social strata come to Pilawoos for the best koththu.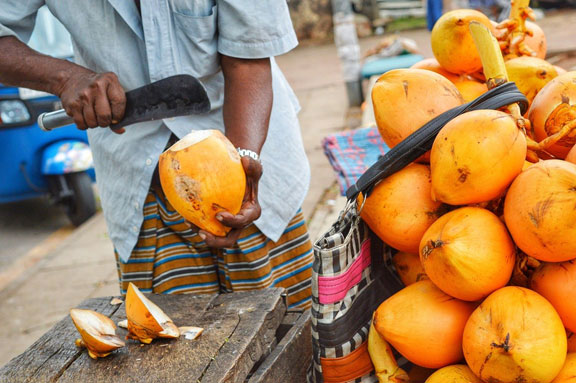 King Coconut
Native to Sri Lanka, king coconut is a type of coconut that's sweeter than the ordinary version. Due to the light orange hue of their shell, king coconuts are easily recognizable. King coconut water not only has an exquisite, refreshing taste, but it also comes with an array of health benefits too. Once the drink is poured, the coconut is opened up and a slice of the outside shell is used as a spoon to eat the coconut meat inside. It's a popular drink to beat the tropical heat.
Where to find it: While you can find bottled king coconut water in supermarkets, there's nothing like consuming it fresh off the tree. You can find it from street vendors at the Pettah Market (map) in Colombo.
About the author: Zinara Rathnayake is a humanities student and co-founder of the travel and food blog NatnZin. Currently based in Colombo, she's also a freelance writer and works as a social media executive.