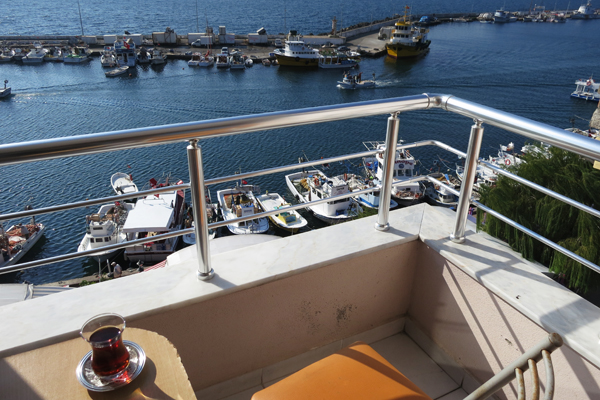 The perfect hotel view, in Sinop
Jutting out into the Black Sea on Turkey's north coast, pretty Sinop is a water-lover's retreat with its expansive sea views and picturesque harbor, bobbing with boats. It's a gem along this stretch of coast, its idyllic setting boasting a small-town yet cosmopolitan atmosphere and, beyond that, a whole lot of living history: Walk the crumbling city walls, dating to around 72 BC, for some of the best views in town; poke around the active harbor for a taste of what the city's trading-port past might've been like, millennia ago. But there's another reason to make the trip up here: the food. Fishmongers abound, and their freshly caught wares spill out onto the streets, beef up restaurant menus, and, if you're around during the winter hamsi (Black Sea anchovy) season, attract a cultlike following from here to Istanbul. In our new EYW Snapshot, we focus not only on the local fish but also on more landlubber-friendly culinary traditions, which—pleasingly enough—are characterized by a fondness for regional walnuts and a certain butter-rich decadence. Ready to dig in?
Local fish, hamsi
The Black Sea coast in general, and Sinop in particular, is celebrated for its fish, and the most prized is also the most ubiquitous, during the winter season anyway: hamsi, the Black Sea anchovy (lesser versions are hauled from the Sea of Marmara, south of Istanbul, as well). From here to Istanbul you'll see lots of love for this cold-water fish, beginning around November—by December for sure—and extending through February or March. But Sinop is ground zero for hamsi, with all of those fishmongers bringing in their own catch of the little silver swimmers and countless restaurants frying, grilling, and baking them up. These fish are rich and oily, with an irresistible sea flavor well complemented by a turn in a hot pan and a squeeze of lemon. Hamsi tava, pictured, is a particularly common preparation: dipped in cornmeal and pan-fried.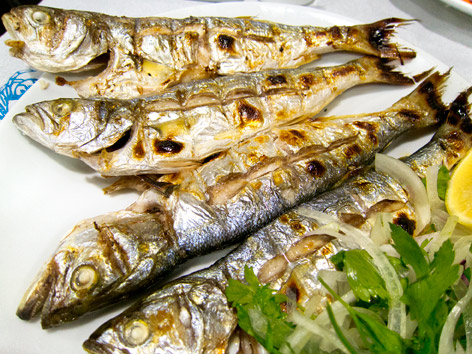 Now, if you miss hamsi season here, fear not. There's lots of other good local fish for the taking, like the grilled whole cinekop, a small and surprisingly mild bluefish (pictured above), and meaty, bite-size iskorpit, or scorpion fish. Also? Bonito (palamut), red mullet (barbunya), sea bass (levrek), mackerel (istavrit), and turbot (kalkan), to name a few.
Read more about local fish & hamsi in Sinop

Cevizli, karisik manti
Ah, manti. The Turkish ravioli, for which pockets of dough are stuffed with minced meat (beef or lamb) and boiled, likely traveled to Turkey from China (possibly descended from the Chinese mantau) via nomadic horsemen during the Mongol Empire; as such, versions of this dish exist across Central Asia. Within Turkey itself are several different regional takes, the most famous version—tiny dumplings served with tomato sauce and yogurt—hailing from Kayseri in central Anatolia, near Cappadocia. The type of manti ("mon-tah") popular in Sinop is very different: The dumplings are large, with soft, delicate skins, and they're topped with a generous amount of melted butter, chopped walnuts (cevizli), and (optional) yogurt (with the latter added, this dish is called karisik manti). It's incredibly rich, filling, and wickedly tasty.
Read more about manti in Sinop
Nokul
These flaky spiral pastries come sweet or savory: For the former, the nokul's soft inner layers are rolled, cinnamon bun style, with üzümlü and cevizli, or grapes (actually golden raisins) and chopped walnuts, while the outside is brushed with butter and a sugary syrup, imparting an exterior stickiness. The butter, of course, edges the "sweet" nokul a bit toward the savory end of the spectrum, but the more savory version, nokul kiymali, is made with minced meat (lamb or beef) inside, plus the requisite butter. Both are usually flecked with sesame seeds. Also important to note: These things are monstrous in size, and to-die-for delicious.
Read more about nokul in Sinop

Islama
For this insanely rich, tasty local specialty, sheets of yufka (like phyllo dough) are rolled up, sliced, moistened with chicken broth, and then topped with shredded chicken or turkey, butter, and finely crushed walnuts. As over-the-top as it seems when presented with this meaty, savory, nutty dish, the soft, thin phyllo spirals somehow impart a lightness to it. Like cevizli manti, it's another beautiful use of the Black Sea region's affinity for local walnuts (and, well, butter). And after days of eating beef and lamb in every imaginable way, you might find the poultry is a nice change of pace: To an American palate, this tastes a little like a Thanksgiving casserole!
Read more about islama in Sinop
Katlama
This local bakery special is a fried bread-like pastry sold in big, folded pieces. Made of thin layers of pastry, it leaves a little grease on your hands, reminding us of India's plain parathas. It's tasty on its own but is typically eaten at breakfast with cheese, jam, and other goodies. When katlama is filled with minced meat, it appears on menus here as etli ekmek, another delicious way to try this stuff.
Read more about katlama in Sinop
Check out Eat Your World's full Sinop snapshot here, and stay tuned for lots more content from Turkey!