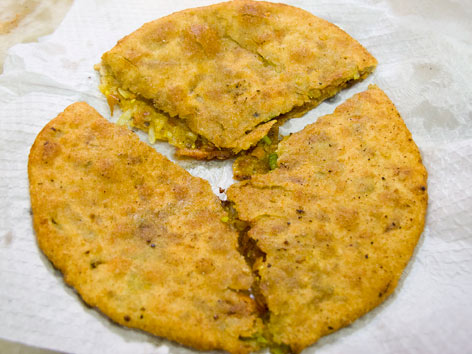 Last spring, North India provided one of our most memorable eating experiences, especially within the walled confines of Old Delhi, where, among the dilapidated surrounds and overall crush of humanity, each delicious bite felt like a small victory. When BootsnAll Travel recently approached us about doing a blog-post exchange, it was the first destination that sprung to mind, as we fear it is all too easy for a visitor to be overwhelmed enough by Old Delhi's madness to miss out on eating really, really well there.
And so our top-10-foods list was born, in this post that went live on BootsnAll today. Hopefully our mouth-watering photos (like the paratha pictured above) and tantalizing descriptions will encourage someone, somewhere, to dive into Old Delhi with an open mind, an eager stomach—and a big bottle of hand sanitizer.
Our full guide to eating, drinking, burning calories, and sleeping in Delhi can be found here.