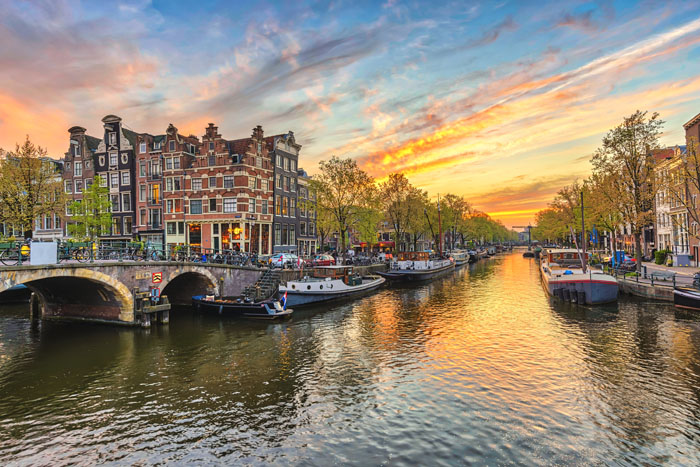 This guide comes courtesy of INSIDR, a friendly travel startup born in Paris in 2015. The goal of INSIDR is simple but ambitious: to help foreign travelers prepare their trip to Europe with qualitative content, recommendations, and innovative new services, like the INSIDR smartphone: a fully connected phone you rent while traveling, complete with maps and access to local experts! Welcome to Europe with INSIDR. (See Insidr's Paris recs in this earlier post.)
Ed.'s note: This post contains affiliate links. Should you buy an INSIDR service, we'll receive a small commission—but we know you'll love it! Thank you.
London
London's dining scene has been completely reborn in recent years—the city is now regarded as one of the best food cities in the world, right alongside the likes of New York, Paris, and Tokyo.
What really makes London's food stand out from other European cities is its diversity. The U.K. capital is a melting pot of cultures, a fact that really shines through its food offerings. Vietnamese, Turkish, Japanese, Italian, Indian, Peruvian, Spanish, and Sri Lankan are just some of the cuisines that London's top restaurants are serving.
Photo by Eat Your World
The one and only meal you should have in London: Aside from the diverse cuisines, there are some fantastic local dishes you must try here, including world-famous full English breakfast: eggs, sausages galore, and bacon. For an authentic and traditional fry-up, try your nearest local "caff"; two we like are the Breakfast Club and the Regency Cafe. Or, for a more modern take on this dish, we love Caravan, Ozone, and Friends of Ours. Each of these really blends a traditional English fry-up with a more antipodean style brunch.
Best foodie area in London: Covent Garden is a food-lover's paradise, with hundreds of restaurants to choose from. From high-end spots like the Ivy to more budget-friendly places like Franco Manco, there are so many great options that you don't have to compromise on quality. Our top insider spot in the area is Seven Dials, a small junction near Covent Garden where seven vibrant streets intersect. Neal Street is lined with shoe shops, while Monmouth Street is filled with restaurants and cafes (including Monmouth, one of London's best coffee shops). Neal's Yard Dairy is famous for its selection of local cheeses, while the tiny passage just behind it leads to Neal's Yard, a hidden square that pops with color that's a real treat to discover. Covent Garden hosted many markets for centuries before the current market building was built in 1830—more than 180 years later, the original building not only still stands, but it also still houses one of London's most popular markets.
Madrid
Madrid is without a doubt a food capital of the world, filled with excellent places to eat and drink. Its local cuisine has been influenced by Moorish culture, as well as regional specifics from all around Spain (such as Basque, Andalusian, Canary Islands). Being the country's capital, you'd expect Madrid to come up with some unique delights, and it does have its own specialties too. This city has it all, from cheap and cheerful tapas bars to the highest standard of Michelin-starred restaurants. A favorite pastime is to order a plate of tapas and watch the street life from your table. The Spanish love a bite to eat with their drinks, so alongside your caña (glass of beer), order a plate of patatas bravas (fried potato squares with a spicy tomato sauce) for the full local experience.
The one and only meal you should have in Madrid: Churros and a taza (cup) of thick chocolate in a local café—it's not just a treat for kids! In fact, you'll see a lot of locals having a guilt-free afternoon break over a generous plate of churros. Keep in mind that "porras" are a thicker, doughier kind of churro, which can also be found at the local churrerias or streetside stalls.
Best foodie area in Madrid: Surprisingly, inland Madrid is home to one of the largest fish markets in the country, and as mentioned, the city serves almost every cuisine imaginable, from Basque pintxos and Peruvian ceviche to Asian-fusion restaurants. Malasaña and Chueca are very cool places to hunt for a local restaurant. Madrid is also packed with incredible local markets where you can taste all range of foods along with a lot of different drinks, like beer and wine. El Mercado San Miguel is an absolute must-visit while in Madrid. And our local favorite is the San Fernando Mercado near Embajadores.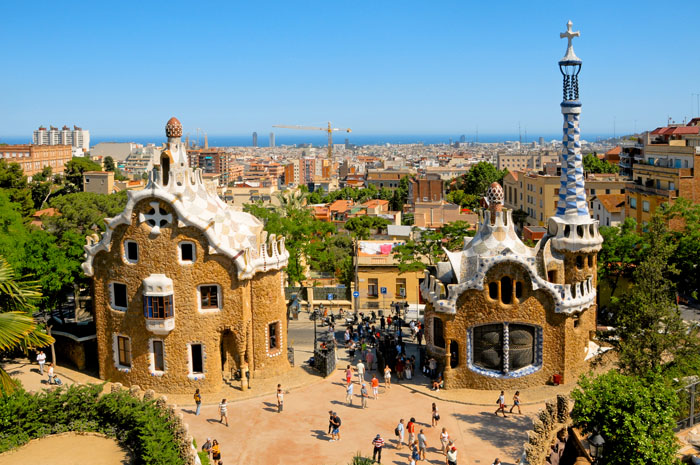 Barcelona
Barcelona is the capital of the Catalan region of Spain, and it's where you'll find all those delicious traditional Catalan foods. Catalans are very proud of their culture and heritage, and this is especially true when it comes to cuisine. They are all about cheeses, meats, and seafood! Catalan dishes include pa amb tomaquet (tomato-rubbed bread), calçots (a type of scallion) with Romesco sauce, fideuàs (paella with short noodles), and our personal favorite, crema Catalana—Catalonia's version of the French crème brulée.
The one and only meal you should have in Barcelona: If there's one thing you just can't miss in Barcelona, it's tapas. This Spanish specialty is basically bite-size versions of some of your favorite meals: cured meats, tomatoes on bread, Spanish omelettes, fresh fish…almost anything you can think of. The best way to eat tapas is with friends. Order a little bit of everything, and enjoy the sharing plates with a refreshing drink like beer, wine, or the locals' favorite drink, vermut.
Best foodie area in Barcelona: The best places to eat in Barcelona are, in our opinion, the super hip and local Gràcia area and the posh, trendy Eixample. From independent tapas bars, trendy coffee shops or hyperlocal kilometer-zero-focused restaurants, you'll find the best food experiences in these districts of the Spanish capital of fun and cool!

Photo by Eat Your World
Amsterdam
Amsterdam's food scene is a cool mix of traditional and international food spots. Traditional local cafés and restaurants are the best places to try local specialties such as herring and bitterballen (delicious fried cheese or meat ball served with mustard). In every supermarket, you will find the local treat called stroopwafel. And of course cheese should be on top of your eating list when visiting Amsterdam. It will be hard to avoid it, as in every district you will find beautiful local cheesemongers selling more cheese than you think exists!
Photo by Eat Your World
The one and only meal you should have in Amsterdam: Traditional Dutch sandwiches can be found in every local café. Made with delicious broodje (bread), they are available in a large variety: raw herring, mackerel, farmer's cheese, wild salmon, egg salad. Taste them with a beer or a latte at any hour of the day. One of our favorite spots for traditional Dutch food in Amsterdam is Moeders.
Best foodie area in Amsterdam: The Jordaan neighborhood and Haarlemmermeer district host some of the nicest local and trendiest restaurants in town, and they're filled with fantastic cheesemongers, incredible organic markets like Marqt, and insane bakeries with more bread than you can imagine.

Venice
Despite Venice's incredible local cuisine and traditions, many visitors coming back from a trip there will complain of eating overpriced, not-so-great food during their stay in La Serenissima. Like in other highly touristed cities, there are lots of tourist-trap restaurants to avoid. That being said, once you know where to go, whether you're a lover of world-famous Italian cuisine like pasta and pizza or you prefer to try regional Venetian delicacies, you will not be disappointed!
The one and only meal you should have in Venice: Venice's local cuisine includes traditional dishes like the delicious sarde in saor, a sweet-and-sour dish of marinated fried sardine fillets, and baccalà mantecato, mashed salt cod on slices of grilled polenta. It's day-to-day Venetian food, and perfect for those who want to experience Venice like a local.
Best foodie area in Venice: To avoid tourist traps in Venice, we recommend skipping the restaurants around the Rialto. One super local square where locals do hang out is Campo Santa Margherita. It is right by the university district, so expect good value for money and crowds of happy students and families. The northern part of the city—around the Campo di Ghetto Nuovo—hosts the nicest and most down-to-earth restaurants. It's a wonderful area to hunt for local cuisine!
About the author: Nina Forlani is a Paris-based writer and contributor to INSIDR, which provides travelers with a digital guide—including maps with all the best non-touristy spots!—to discover Paris and other top European cities like a local.