Get to know Senegalese food in Dakar, where French, Wolof, and North African influence meets local ingredients in the kitchen—and on the street. Here's what to eat in Senegal.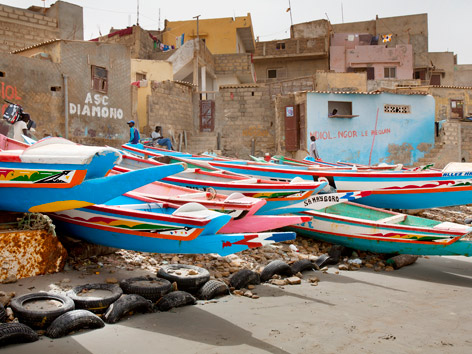 Hand-carved pirogues on the beach in Ngor, in Dakar
Perched on the edge of West Africa, Senegal has long gone quietly about its business while its neighbors get into all sorts of trouble. Quietly, of course, is a misleading word in the context of Dakar, the sultry capital city and dust-ridden domain of all-night music clubs, infamous traffic, relentless hustlers, and nonstop construction, where the dead silence of night is regularly punctured by soaring muezzin calls to mosque.
And then there's the food. Among other West African cuisines, Senegal's stands out for its distinct cultural influences—most notably from various ethnic groups (especially the dominant, native Wolof), Europe (particularly France, as Senegal was a French colony until 1960), and North Africa—and its mastery of local ingredients, seafood, millet, and groundnuts (peanuts) chief among them. When deciding what to eat in Senegal, all of this history and geography must be considered.
Dakarois take pride in their food, be it baguettes on a sandy side street, grilled sheep in a smoky dibiterie, or a beautiful plate of ginger shrimp from a restaurant on the beach. Some expats may tell you there aren't many restaurants in Dakar, that all the best food is prepared at home. Let's be clear about something: If a local invites you in for a home-cooked meal—and this is likely to happen; Senegalese are famous for their hospitality—by all means, go. Failing that, a little research goes a long way in revealing plenty of good dining options scattered among the city's markets, backstreets, cozy neighborhood cafes, and upscale seafood joints.
In our main food guide to Dakar, we give all the specifics about where to find these dishes and more. But you have to know what you're looking for. Here's what to eat in Senegal.
Can't-miss Senegalese food

Ceebu jën
The dish most associated with and beloved by Senegal—and indeed, eaten here for lunch several times a week—is ceebu jën, the native take on rice ("ceeb" in Wolof) and fish ("jën"). Hailing from St. Louis on Senegal's north coast, ceebu jën consists of seasoned rice; a piece of grilled or pan-fried fish, stuffed with a garlicky paste (called the rof); a few vegetables; plus some unique accoutrements: dahkar (mouth-puckering sweet-sour tamarind), xooñ (the crispy burnt rice scraped from the pan's bottom), and bissap, a slimy, sour green sauce made from hibiscus leaves.
It's not hard to love this dish—the flavors are fresh, bold, and surprising, hits of tart balanced against sea-salty savoriness; and the textures are beautifully varied. It's cheap, delicious, filling midday grub. Also tasty? Ceebu jën's meaty sister, ceebu yapp.
Read more about ceebu jën in Dakar
Accara
A common street food in Senegal and other parts of West Africa, accara are crispy black-eyed-bean fritters, usually served with a tomato-and-onion-based hot sauce called kaani. It's not a stretch to consider them a precursor to Southern hush puppies, or even similar to falafel in a way. Along with fataya and beignets, these were one of our favorite local snacks, especially served like this, on a crusty baguette.
Read more about accara in Dakar
Dibi
Senegal's favorite street food, dibi is roasted meat, usually sheep, that's spiced, cooked on simple grills, hacked into pieces, and served on grease-stained paper with grilled onions and mustard, plus bread on the side. The tradition hails from the Arabs, and Senegal's 95% Muslim population has embraced it wholeheartedly.
In Dakar, dibiteries—purveyors of dibi, generally holes-in-the-wall with giant wood fires or simple street-corner grills—are the most visible type of dining "establishment" you'll encounter on roadsides, not unlike kebab shops in countless other countries (or Texas BBQ, for that matter). Every Dakarois is likely to have a favorite dibiterie, and it's probably on their cell phone's speed dial. It's a must for any visitor getting to know Senegalese food.
Local seafood in Dakar

Surrounded on three sides by the Atlantic, Dakar is awash in fresh seafood. Hardly a day goes by that you don't want to be sitting within view of the sea, dining on local fish caught that morning. Common hauls include carpe rouge (red snapper), prawns, lobster, sea urchin, tilapia, thiof (a type of grouper), giant barracuda, tuna, lotte (monkfish), snapper, swordfish, mackerel, and yaboy (sardinella), and that's just the tip of the iceberg. When we visited the daily fish market/spectacle on the beach at Soumbédioune, we saw all of these and more being carried off the pirogues (handcarved, brightly painted canoes) and put to immediate sale in the fading afternoon light.
Read more about local seafood in Dakar
Mafé
The dish to make the best use of indigenous groundnuts, or peanuts, mafé combines meat, typically beef or mutton, and a peanut sauce, served with rice. It originated in Mali but is quite popular in Senegal and the Gambia, where groundnuts are likewise native (other parts of West Africa have a version of this too, such as Sierra Leone and its groundnut soup). Lest you confuse it in your mind with a smooth Indonesian satay sauce, this groundnut sauce tends to be much thicker and oilier, imparting a richer flavor. It's delicious.
Local juices
Drinking Senegal's local juices is truly a pleasure of being here, especially when you consider it's a teetotal Muslim country in which soda is a special-occasion drink. There are quite a few, all made from local ingredients and all very sweet—the Senegalese do not mess around when it comes to adding sugar. The three juices you're likely to encounter the most in Dakar are bissap (hibiscus), bouye ("bwee"; baobab fruit), and gingembre (ginger). Perhaps the most prevalent is bissap, a tart, deep red juice made from the dried flowers of the native hibiscus plant. Gingembre juice has the pungent taste of ginger—good for settling a bad stomach, likely—and cream-colored, vitamin-C-rich bouye (pictured) is thick, sweet, and tangy, with the slightly chalky consistency of a banana shake. It was our favorite of the juices, not only for its unique taste but for being the most distinctly African of the bunch, made from the hanging, dried fruits of the great baobab tree.

Read more about local juices in Dakar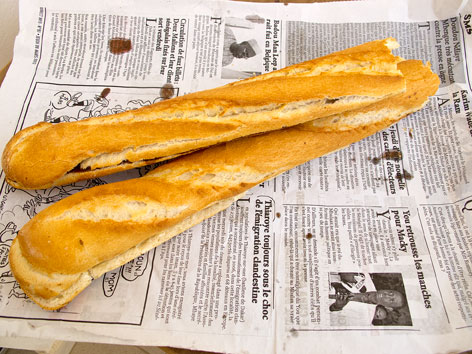 Baguette breakfast sandwiches
Because of the French, who occupied Senegal until 1960, baguette stands are a common sight on the streets of Dakar, and sandwiches on long, skinny pieces of bread a popular cheap breakfast. At its most basic, the classic Dakarois street breakfast is a baguette spread with butter or a peanut-chocolate spread (like a thinner version of Nutella), eaten on the street with a café Touba or wrapped in newspaper to go. A step up from that is a hot sandwich, filled with cooked eggs—always a greasy, salty, tasty affair. They're familiar foods that are often served in wooden stands, unmarked storefronts, or makeshift thatched-wall street shacks, making them an adventure to track down and try.
Read more about baguette breakfast sandwiches in Dakar
Yassa poulet
The lone chicken dish of the Senegalese classics, yassa poulet hails from the Casamance region of Senegal, in the south of the country. Chicken is marinated in a thick, lemony onion sauce and served with a side of steamed white rice. The soft heap of brown-colored onions calls to mind French onion soup, while the stew is reminiscent of coq au vin. But the flavors—most prominently the piquant tang that the lemon brings—are unique to Senegal. You might encounter this dish in other parts of West Africa, but it originates here.
Read more about yassa poulet in Dakar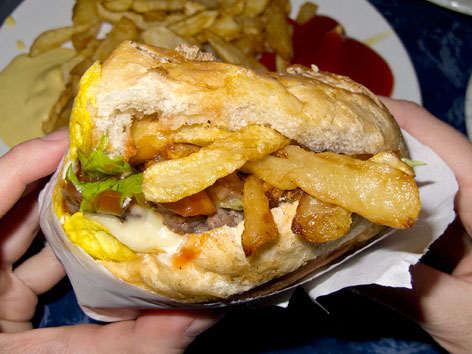 Senegalese burger
Is this an official "thing"? Who knows, but Senegal definitely has its own spin on how a burger is built: with a little bit of everything. Lettuce, tomato, onion: check. Cheese, fried egg, French fries: You betcha. And then the sauces—ketchup and mayo are pretty standard, but mustard and pimón (hot sauce) are also on the menu. Some expats we met here were fond of calling it a "Wolof burger," but of course here it's just a burger. We know it as a delicious hot mess.
Read more about Senegalese burgers in Dakar
And that's just the start. Check out Eat Your World's full Dakar food guide for details on these highlights and more, plus How to Burn It Off and Where to Stay.
Interested in seeing and learning more about Senegal?
Check out these offers from our affiliates:
Read more with the Senegal Bradt travel guidebook, published in 2019.
PIN THIS TO SAVE!
Note: This article contains affiliate links that help support this site, at no cost to you.